On this page will be links to and/or copy from Online sources and periodicals that have our PROMISE dogs "In The NEWS" or where Ron, Judy or Heather have been quoted.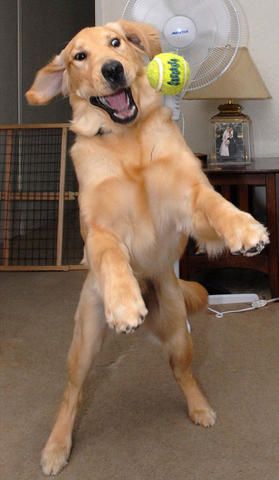 "Obie"
South Bay PET OF THE WEEK, Daily Breeze, Torrance, CA February 2008 Hi, I'm Obie! I'm a Golden Retriever and turned 2 November. I'm absolutely obsessed with tennis balls! (Read the complete article by clicking the link. You will have to look in the archives which are listed after each week's article).

Online Article picked up from our local paper. By Nzong Xiong, The Fresno Bee, Calif. Feb. 6 "Give me shelter -- Pooches benefit from doghouses" Source: The Fresno Bee Publication date: February 6, 2008 Distributed by McClatchy-Tribune Information Services. Printed in McClatchy-Tribune Newspapers throughout the country. (All the way to Buffalo, NY!)

Online Article on HGTV "At Home:Training" featuring quotes from Ron. First run in print in our local Newspaper. By Nzong Xiong Fresno Bee

Dr CW Meisterfeld, professional canine psychotherapist Website. (1999) "Last Graduate of the Century".