AKC/UKC/Int'l CH Promise's Junior Maverick x CH Jester's Ulterior Motive

Harley has been enjoying her forever home spending time between Washington State and San Diego CA.



Multi CH Promise's Stop Look N Listen - Harley holds CHAMPION titles in the AKC, UKC, IABCA systems. HARLEY HAS FOUND HER NEW FOREVER HOME - but enjoy her page and photos... we are proud of her!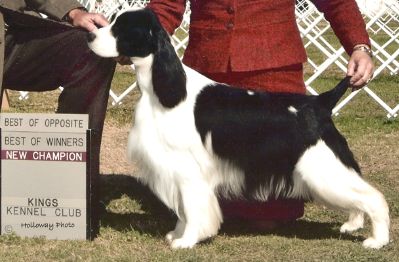 "Princess" HARLEY COMPLETED HER AKC CHAMPIONSHIP March 2, 2008 with a Best of Winners and a Best Opposite!!!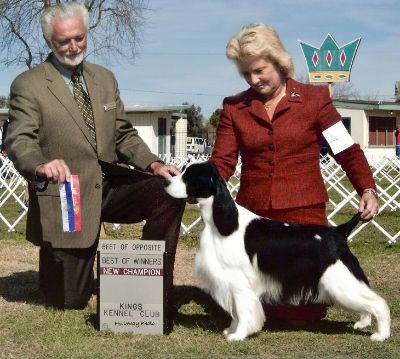 The "full" photo of the little Princess - completing her AKC Champion title at the KINGS Kennel Club (See, she really IS royalty!!).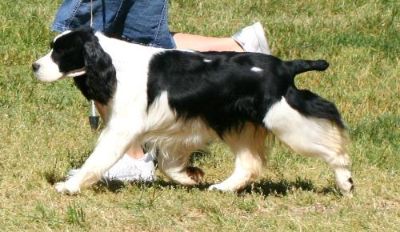 Gaiting in the ring 4/13/08 finishing her UKC champion title.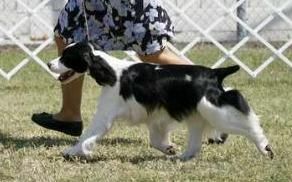 Harley in Torrance, CA August '07 (photo by Carol Beuchat, professional photographer. THANKS Carol).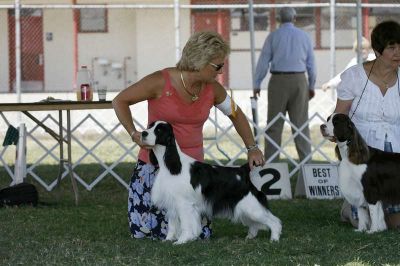 In the ring, Torrance, CA with handler Lynda O'Connor. (photo by Carol Beuchat, professional photographer. THANKS Carol).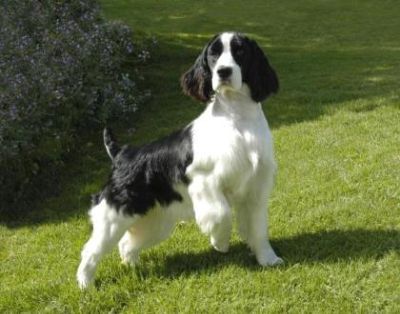 Here's an amazing shot of our little princess (age 7 1/2 months)... taken by Toni Bauerlein-Sehnert at Huntington Beach Central Park-- the show site for the English Springer Spaniel specialties on April 29-30, 2006. What great timing to get this photo! THANK YOU TONI! (Expect to see this in an upcoming painting soon!)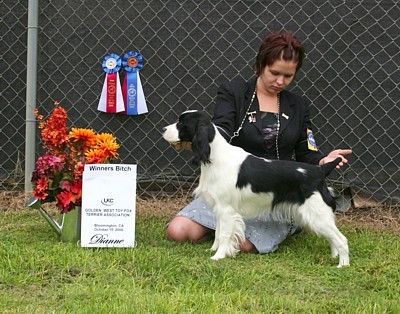 Princess Harley -Won Best Female (aka Winners Bitch) in both Shows at her first 2 UKC shows 10/15/06. She has earned 50 pts towards her UKC and needs 3 majors to achieve her UKC Champion status (her brother Boomer won the 2 majors for this weekend).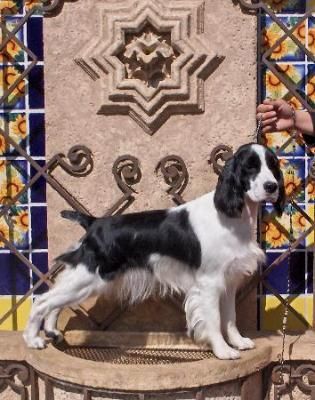 Harley posing at the Springer National, Oct 2006.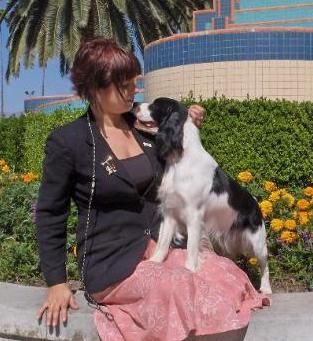 A Face to Face??? Heather and Harley at the Springer National, Oct '06.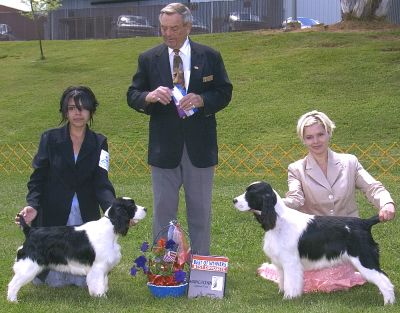 A great photo of Harley (left) and brother Boomer at the Placerville show in May 2006. Harley won Best Opposite to her brothers Best Od Winners.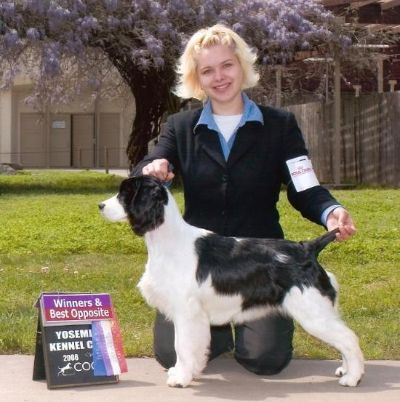 A recent show photo of Princess Harley. She is 6 1/2 months old. (Merced CA 4/06) ~Victoria Cook, photographer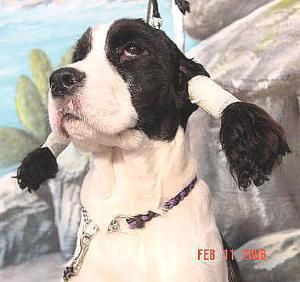 At just under 5 months, Harley and her brother Boomer went to their very first shows.... And Princess Harley showed them who was Royalty by winnning RESERVE BEST IN SHOW BRED-BY PUPPY!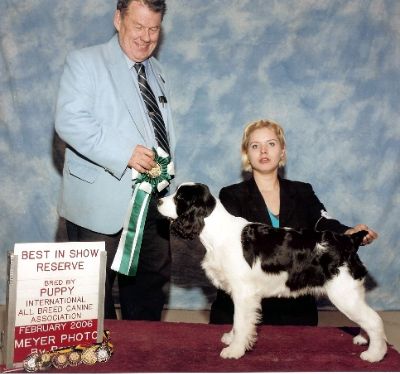 Here's the show pic of little Harley after winning her Best In Show reserve, bred-by puppy! She also gathered up 6 medals that day! (2 shows).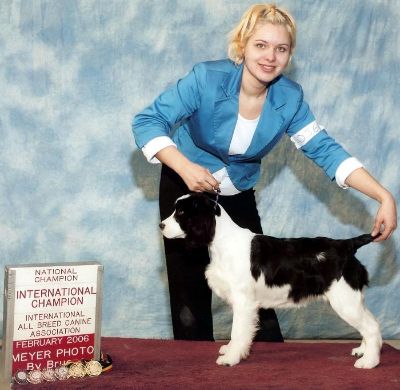 Here is Princess Harley and Princess Heather---day 2 of the International show. Harley got her International and National CHAMPION title after winning the classes in the 4 shows... Look for her at an AKC show near you...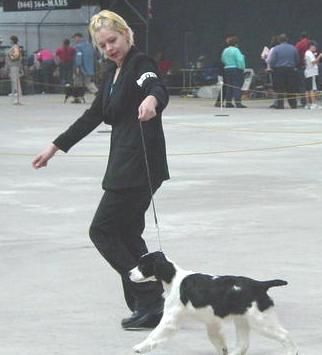 Harley and Heather, a winning team! Harley just seems to know how to catch the judge's eye! Great movement for such a youngster!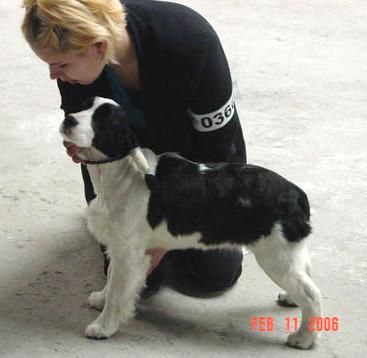 You put your right foot in, you put your right foot out, you put your....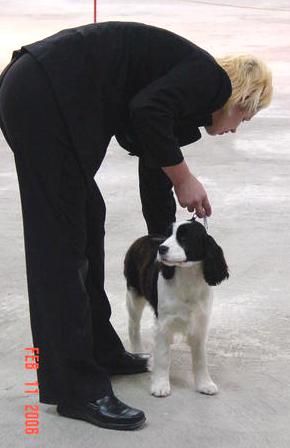 Westminster, watch out, 'cause I'm coming!!!!!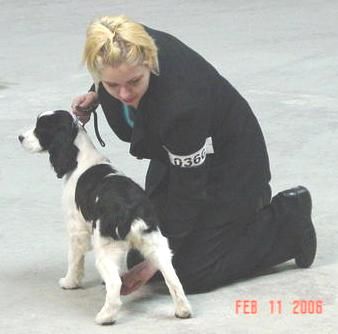 Ring work....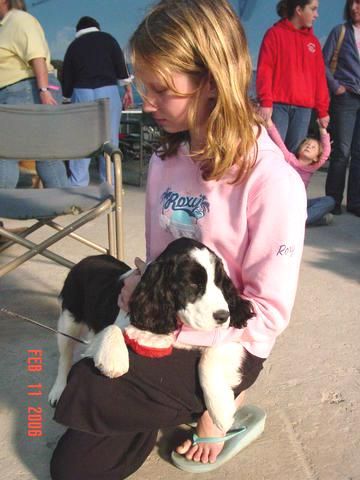 Hanging out with a friend...A quiet moment before going into the ring. Harley with new best friend, Christie V. who helped us out SO MUCH at the dog show. THANK YOU CHRISTIE!!! YOU ARE A GREAT JUNIOR HANDLER!

ALL CONTENT, COPY, AND PICTURES ON THIS SITE IS COPYRIGHTED AND MAY NOT BE USED FOR ANY REASON WITHOUT EXPRESS WRITTEN PERMISSION. (c) 2004 -2011 PROMISE KENNELS @~START EVERY DAY WITH PROMISE! ~@