THIS PAGE IS STILL UNDER CONSTRUCTION

Made from high quality saddle leather, these handmade leashes are soft in your hand, but strong and durable! Leather is prefered by trainers and others "in the know". WHY? Because leather is easier on your hands than woven/plastic type materials And it has good "grab-ability", which means it won't go whistling through your hands creating a burn if your 120 pound mastif decides to chase the park squirrel!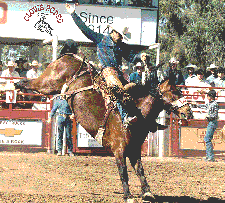 Clovis, California is COWBOY COUNTRY. That's lucky for you, because we found an excellent saddlemaker who takes his craft seriously. We have our saddlemaker twist and sew the hardware in place to insure accidental breaks are virtually impossible. (Just make sure you order the correct size leash for your particular animal!).

TRAINING LEADS:

6 ft x 1/4 in
6 ft x 1/2 in
6 ft x 3/4 in
6 ft x 1 in
ASSISTANCE/SERVICE LEADS

12 in x 1 in "The Grabber"
18 in x 1 in
24 in x 1 in
8 ft x 1/2 in "loop D loop"
8 ft x 1 in "Belt D loop"
Have a special need/order? Email us with the specifics and we'll take it to our Saddle Man, and get back to you with a price quote.