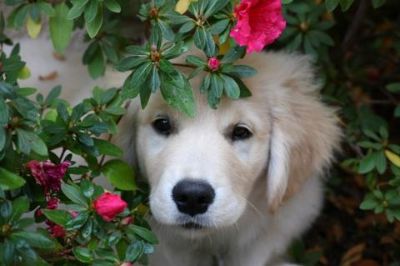 Planning for a new puppy is exciting! One of the first steps in acquiring a PROMISE puppy is filling out the Puppy Questionnaire. Because we strongly feel that each and every puppy that we bring into this world is partly our responsibility, we try to make sure that potential Puppy Families are READY, WILLING and ABLE to take care of their new family member for the next 13-15 years. PLEASE read the "WANT A PUPPY" page in addition to filling out this questionnaire!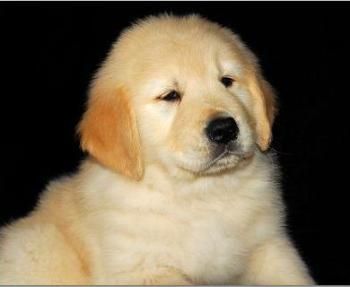 All dogs used in our breeding program have had their hips certified through OFA, their eyes cleared-annually by a board certified ophthalmologist (CERF) and their hearts cleared and listed with OFA. Our goal is to produce a healthy and structurally correct puppy with wonderful temperaments. We personally look to place our puppies into homes where they are going to be in the house and part of the family. Whether they are being placed as show dogs or as a family companion our goal is to breed the temperament and character that best suits a family life style: gentle, friendly and easy going. However, we also strive for a temperament that will be versatile for the conformation, obedience or agility rings and should excel at Therapy work or as Service/Assistance dogs. PLEASE NOTE that we usually have a WAITING LIST for our puppies. We require a non-refundable $150 deposit and the questionnaire below in order to hold a puppy for you.(Deposit is refundable if the litter you are waiting for does not have the sex or color you want).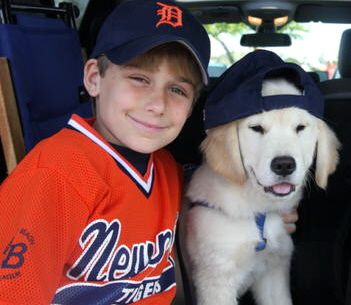 PET/COMPANION puppies START at $1,400. The cost increases depending on which BREED (Golden or Springer), sire & dam, age, and whether you want additional training for your puppy before it goes home. All show pups are on a co-ownership registration. Email for more specifics. We are planning our GOLDEN and SPRINGER litters for 2011 . And yes, the waiting lists are already started.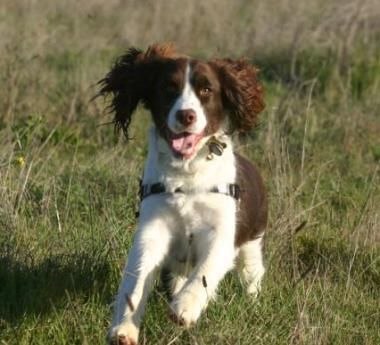 Your assistance in completing this questionnaire will help us to place the right puppy in your home. All information will be kept confidential and used only by us. Thank you for your cooperation and interest in our dogs! PLEASE REMEMBER: I am only human, and will try to answer any inquiries about our dogs and upcoming litters ASAP, however PLEASE feel free to re-send an email if it has been over a week and you haven't received a reply. Sometimes I read the emails and think I'll get back to answering them, but then get busy with something else. It's not because your interest isn't appreciated!


These are some questions to help us be sure that you will be getting a puppy that you are happy with. It is also to help us be assured that our PROMISE puppies will be going to good homes. These questions are not meant to be judgemental in any way so please feel free to be candid in your responses. We DO NOT SHARE your information WITH ANYONE. Please highlight the questions (copy) then paste them to an email. Answer the questions and then email it to us at promisekennels@gmail.com

Date:

Name:
Address: City: State/Zip
How long have you been at this address?
Phone Number with area code:(hm) (cell)
E-mail:
Your Occupation:
Spouse's/significant other's Occupation:
Your Web URL: http://


How did you learn about us?

Are you interested in a Puppy or in a TRAINED older puppy/older dog?

Are you interested in a GOLDEN RETRIEVER OR A SPRINGER SPANIEL???

Why have you decided to buy a Golden Retriever or English Springer Spaniel?

For what purpose (s) are you purchasing a Golden Retriever or English Springer Spaniel?

Do all family members want a new puppy?

Are there children in the house?
If yes, Gender and ages:

Who in the household will have the main responsibility of caring for this pet?

Do you Own or Rent your principal residence?

Do you live in a? House. Townhouse, Apartment:

Where will the puppy be accommodated during the day? Please describe:

How many hours a will the dog be alone?

Do you have a securely fenced yard? Please describe:

Do you have a chain link kennel run? Please describe:

Are there neighborhood restrictions on owning a dog?

What breed(s) of dogs have you owned in the past?

Have you ever had to put a dog to sleep? Why?

Do you currently own other dogs? ___yes ___no Spayed / Neutered? ___yes ___no

Please list breed, size, and gender of each

Do you own cats? ___yes ___no If yes, how many?


Any other animals? ____yes ____no If yes, please describe:

How many dogs have you owned in the past five years?

If you do not still own the dog(s), please describe what happened to it (them). Please be specific.


Have you ever returned a pet to the breeder? ___yes ___no

If so, what were the circumstances

Have you ever given a pet away? ___yes ___no If so what were the circumstances?



Have you ever taken a pet to the pound or shelter? ___yes ___no

If so, what were the circumstances?

What is your TIMELINE in getting your new puppy? YESTERDAY THIS WEEK ASAP THIS MONTH YOUR NEXT LITTER OTHER (please list!)

Have you owned a Golden Retriever or Springer before? ___yes ___no

Why did you choose this breed?


What activities do you plan on doing with this dog?
___Pet ___Hunting ___Obedience ____Agility Trials
___Hiking/Backpacking ___Therapy ___Assistance/Service
___Guard (Goldens make poor guard dogs. Although they will bark—they would lick the intruder to death or show them where the silver is kept).
___Other:

Do you prefer a male or a female?
Why?
If your first choice (male or female) is not available would you be willing to take a puppy of the opposite sex or would you wait for another litter? The chance of getting a puppy from the litter you are interested in is greatly increased if you are flexible.


Is there a color preference?
GOLDENS: Light [ ] Medium [ ] Dark [ ] Don't Care [ ]
SPRINGERS: Liver/White [ ] Black/White [ ] Don't Care [ ]
Is there a SIZE preference?

What type of personality are you looking for? (Examples: couch potato, middle of the road, very active, independent, etc.) Please be as detailed as possible.


Are you looking for: a young puppy [ ] older puppy [ ] (training started) Older dog [ ] (training completed)


What is the most important reason for purchasing a Golden Retriever or English Springer Spaniel?

Are you willing to train your puppy - starting when you take it home? (We will provide you with training info for puppies)?

Please name two persons that we could contact for references? List name, Phone Number and email.


Who is your Veterinarian? List name, Phone Number and email.

Are you willing to continue training your puppy/dog so that it can receive a Canine Good Citizen (CGC) Award? (We will help you with this also—for more info, CLICK HERE). All of our companion or pet puppies are sold with AKC Limited Registration and spay/neuter contracts. This means that the dog is registered with AKC however none of the offspring are eligible for registration. A dog with a Limited Registration as well as a spayed or neutered dog can compete in all AKC events except in the Conformation classes (breed ring).

SHOW PUPPY CLIENTS:
Have you had a Show Dog before?
If yes, who was your Handler?
Have you ever completed an AKC title?
If yes, please list completed titles:
Are you familiar with Co-Ownership with your Breeder?
Are you familiar with the standards and specifics of AKC, OFA, CERF and the breed club?

Are you aware that the expenses associated with showing may run $1000.00 to $2500.00 per month?
Are you comfortable with your puppy being away from you for long periods?

I understand that sending this application does not automatically entitle me to a dog. I understand that this application is just a beginning step in the interview process. I also agree to never train my puppy using harsh, Alpha Dominant training methods (eg; Alpha Roll).


____________________________________
Your Signature

Please review and then submit this completed questionnaire. We will contact you via Email as soon as possible regarding the availability of our PROMISE puppies.




ALL CONTENT, COPY, AND PICTURES ON THIS SITE IS COPYRIGHTED AND MAY NOT BE USED FOR ANY REASON WITHOUT EXPRESS WRITTEN PERMISSION. (c) 2004-2011 PROMISE KENNELS