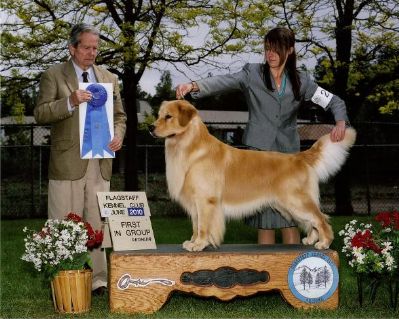 We are so proud of our boy Tonka, BISS GCh Eldorado's Promises D'Best H3X, SDHF. He is the 26th Golden Retriever to win AKC's new title of GRAND CHAMPION! He was also the #1 Golden Retriever in the USA (Jan - April 2010, Canine Chronicles.com); He is a TOP 10 Golden Retriever for 2010, is also a BISS WINNER (Houston 3/19/10) PLUS TONKA HAS HIS SDHF TITLE!!!!!(Completed on 3/11/10 in San Antonio with a Group 3 win). BISS means Best In Specialty Show, and SDHF means Show Dog Hall of Fame. Tonka is available to approved bitches. Contact Judy via email at promisekennels@gmail.com for more info. To visit previous Welcome Committee photos CLICK HERE !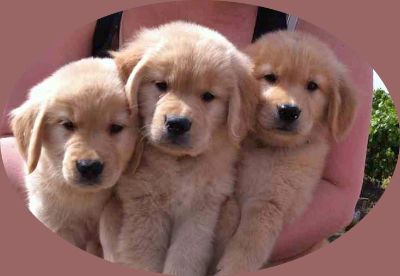 ~@~@~@~@~@~ WE ARE AN AKC BREEDER OF MERIT! CLICK HERE to see what that means! ~@~@~@~@~ There is a LOT of information on this site, so COME ON IN and surf around.... Enjoy! Email me with any questions by clicking on the CONTACT US button to the left. GOLDEN LITTER DUE SOON ~ CLICK HERE. REMEMBER, START EACH DAY WITH PROMISE!


PROMISE KENNELS FIRST CANADIAN CHAMPION (5/11/12) is NOW our first CANADIAN GRAND CHAMPION 5/30/14!!!
A HUGE congratulations to Lauren Hurley, owner of KAYSA - now known as Can GCH Promise's Of Pure Heart, TDI. She ALSO just qualified for her Therapy Dog International status! WELL DONE LAUREN and Team Kaysa!!!CLICK ON KAYSA'S PHOTO TO VISIT HER PAGE!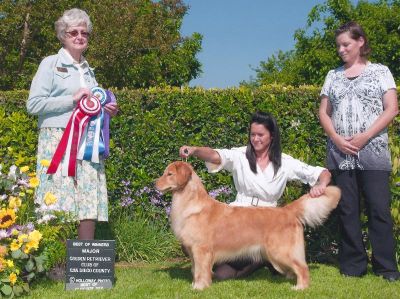 BIG BRAG!!!! PROMISE'S NEWEST AKC CHAMPION! Our Sweet girl EDEN is now AmCH Promise's Vision Of Excellence! THANK YOU judge B. DiDonato for giving our girl her last 2 pt win! This picture is of a FOUR POINT MAJOR win and BEST OPPOSITE SEX over Specials at the Golden Retriever Club of San Diego Specialty under judge Ms. June Russell Smith. THANK YOU to our brilliant and talented handler Rebecca Heimann! CLICK HERE to visit Eden's page. EDEN IS EXPECTING her first litter~CLICK HERE!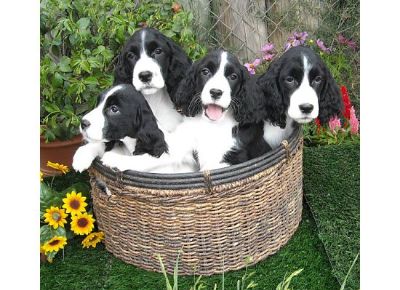 We have a couple year old Springers available!! - Click on the basket of puppies to your left to find more info! This photo is of a 2010 Springtime Litter Of Springers. These puppies were part of a PHOTO SHOOT for PURINA in 2010...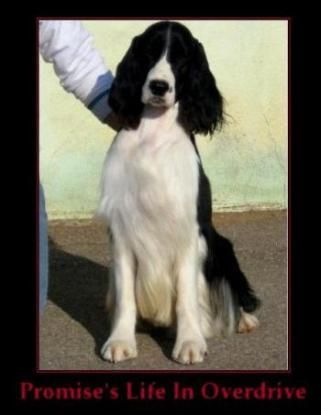 AN AMAZING OPPORTUNITY! We have a few youngsters we have decided to place. Click on Zoomy's photo to visit the available PupperDogs. Maybe YOU will be a lucky new owner!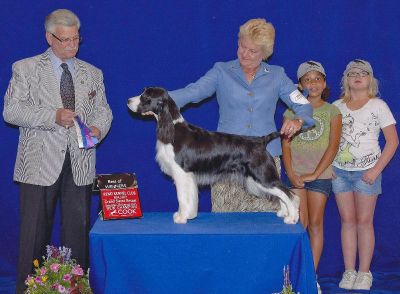 ANOTHER CHAMPION BRAG! After only 2 months out with handler Lynda O'Connor our B/W English Springer Spaniel RAVEN ~ Promise's Up In D'Wild Blue Yonder (BIS, BISS CH Tara's Master Of "D" Game - "Falcon" x Am CH/U-CH Jester's Wildeyed-N-Wicked - "Maggie") FINISHED HER AKC CHAMPIONSHIP which included a 4 pt MAJOR win! THANK YOU Lynda and Judges!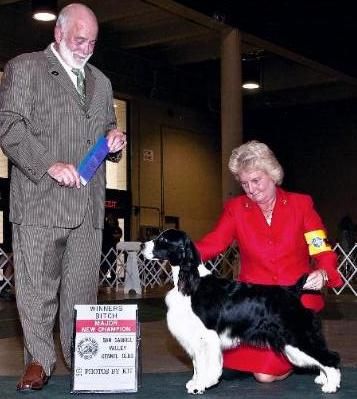 ANOTHER HUGE BRAG!!!! Our Springer Sarah (NOW known as AmCH Winamere's Cornerstone Of Promise's - a Falcon daughter) finished her AKC CHAMPION TITLE with her 3rd MAJOR WIN at the Mission Circuit in Pomona CA on May 28, 2011. What a wonderful 22 yr wedding anniversary gift for me and Ronnie who were both there to watch!!! THANK YOU SO MUCH to our friend and wonderful-amazing-terrific handler Lynda O'Connor!!!! Visit Sarah's page by CLICKING HERE. Photo will be posted once it is received. :-)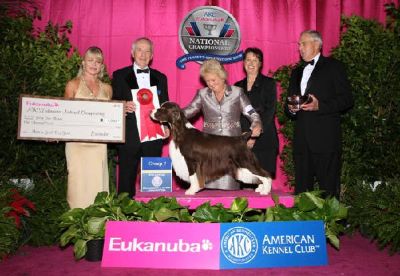 Springer FALCON (BIS BISS Am CH Tara's Master Of "D" Game) WON A GROUP 2 at Eukanuba. Feb 2010 Falcon earned a JAM at Westminster! Click on Falcon's photo to visit his page. We were HONORED to be part of Team Falcon 2/09-2/10!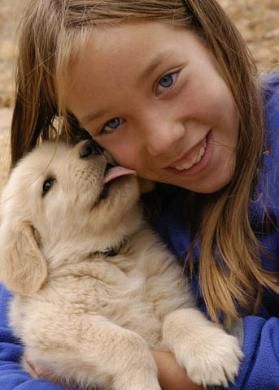 INTERESTED IN A PUPPY? Please click on the "Want a puppy" page, and then the "Puppy Questionnaire" page. If you wish to be considered for one of our Golden Retrievers or English Springer Spaniels, please make sure you send us a completed puppy questionnaire. (This terrific picture was taken by one of our TALENTED puppy people, Toni Bauerlein-Sehnert).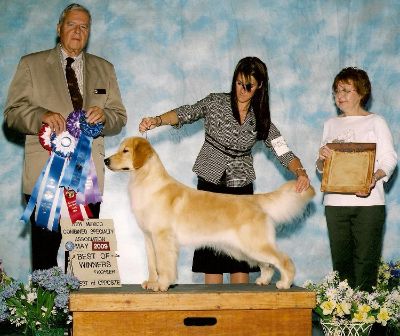 HOPE (AmCH/ U-CH Promise's D'Word O'Faith) who finished her AKC champion title in 2 1/2 months, start to finish! THANK YOU to our terrific handlers Rebecca Heimann and Christian Rangle for their excellent presentation of our girl! Photo on right is Hope's win at the Rio Grande Valley Golden Retriever Club Specialty in New Mexico winning BEST OF WINNERS and BEST OPPOSITE over specials! THANK YOU Golden Breeder Judge Howard Falberg for this prestigious win! Click on Hope's photo to visit her webpage.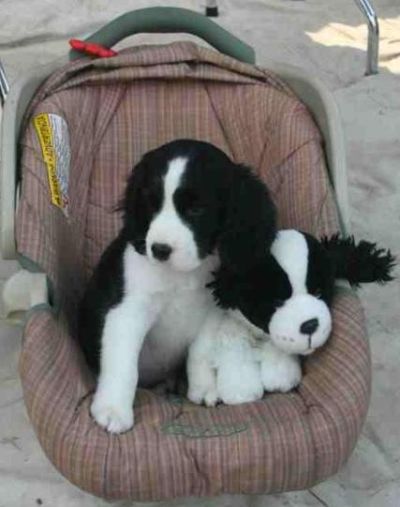 LIVE OR MEMOREX? This photo is one of our Springer puppies, born 5/14/09, and a "carbon copy" stuffed toy. To see more photos of this litter, click the picture. To check on planned breedings and litter news, please CLICK HERE.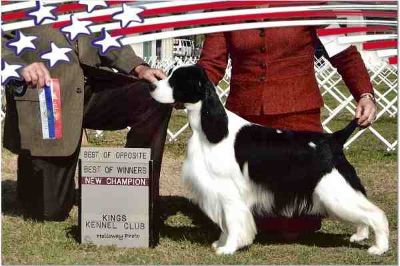 Another Team Promise's AKC CHAMPION! Princess Harley is now Am CH Int'l/Nat'l CH Promise's Stop Look N Listen. Click Harley's photo to visit her page.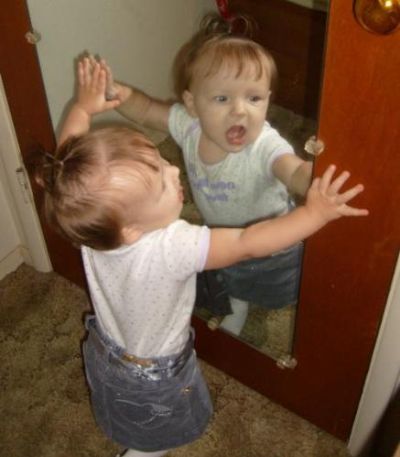 SEE PHOTOS OF OUR GRANDCHILDREN! CLICK PHOTO of Julane Andrea Elizabeth Sherrill - she's our next JUNIOR HANDLER! --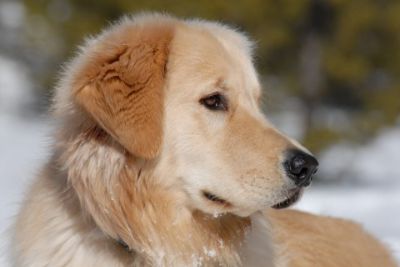 This gorgeous boy is RILEY, a Pete son, out of Rae. Click on Riley's photo to see more SNOW FUN photos from Riley and other Promise pups!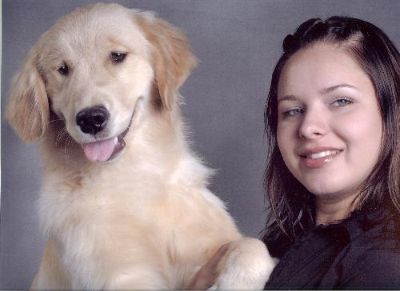 Throughout this website, click on the underlined words to follow links. STILL HAVE QUESTIONS ABOUT TRAINING OR PUPPY PLANS? PLEASE CALL JUDY ON HER CELL PHONE AT 559-355-9914 THANK YOU! The picture to the right is of our sweet FAITH as a puppy and daughter HEATHER. See more pictures of FAITH on her page by clicking HERE. (Faith is spayed and is now living a blessed life near us!!! We still have 3 of Faith's daughters).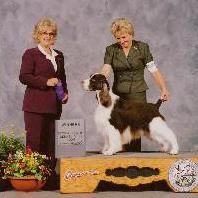 We are trying to arrive in the Technology Age! We will try to always keep you up to date with New Brags from ringside, New Training Classes, what's happening with Pete, the SUPER Therapy and SERVICE dog, and upcoming litter information. We are making an effort to present you with our entire spectrum of GOLDEN RETRIEVER, ENGLISH SPRINGER SPANIEL and DOG TRAINING information. The emphasis of our site is on OUR DOGS and TRUST & RESPECT DOG TRAINING. Please check this site frequently for updates.In the meantime you can reach Ron for TRAINING at 559-355-9915. We are looking forward to hearing from you. You can also contact Judy at her e-mail address: promiseplus@msn.com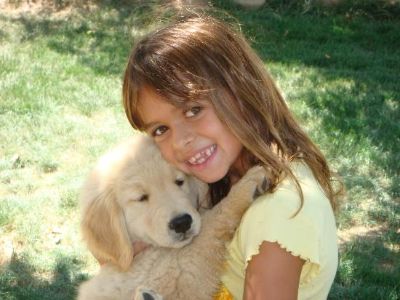 If you are not familiar with us, GOLDEN RETRIEVERS, ENGLISH SPRINGER SPANIELS or TRUST & RESPECT TRAINING and your first contact with us is online: We would be pleased to hear from you! Let us know what your needs and questions are. We will be more than happy to try and help. In brief, you should know the following about us: We are members in good standing with the Golden and Springer Parent Clubs- the Golden Retriever Club of America (GRCA) and the English Springer Spaniel Field Trial Association (ESSFTA). Also the American Kennel Club (AKC), the United Kennel Club (UKC) and the International All Breed Canine Association (IABCA).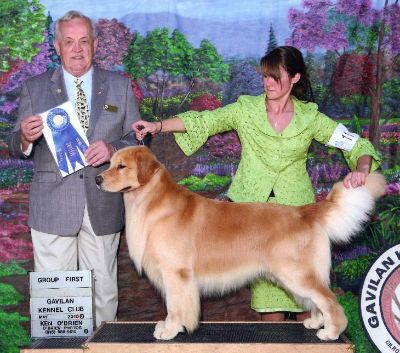 We are serious hobby breeders, which means that we show our dogs in at least one venue (we show them in several: conformation, obedience and use them as Therapy Dogs and Assistance Dogs, and occasionally they get to go hunting). WE ARE NOT A BACKYARD BREEDER, NOR ARE WE A PUPPYMILL. We raise, train and show English Springer Spaniels and Golden Retrievers. We breed a litter to have something to show in the ring, or to train for a purpose (therapy dogs, service dogs, obedience...). (Picture above is TONKA).

Many of our dogs are TRIPLE registered with the AKC, UKC and the IABCA. All dogs used in our breeding program have had their clearances done, which include hips certified through OFA, their eyes cleared by a board certified ophthalmologist and their hearts cleared and listed with OFA. We also check elbows and cardiac (heart). Our goal is to produce puppies that are healthy and structurally correct that possess wonderful temperaments. We personally look to place our puppies into homes where they are going to be in the house and part of the family. Whether they are being placed as show dogs or as a family companion our goal is to breed the temperament and character that best suits a family life style: gentle, friendly and easy going. However, we also want our dogs to be versatile, whether in conformation, obedience or agility rings and they should excel at Therapy work or as Service/Assistance dogs.

All of our companion or pet puppies are sold with an AKC Limited Registration and spay/neuter contracts. This means that the dog is registered with AKC, however none of the offspring (should it have any) are eligible for registration. A dog with a Limited Registration, as well as a spayed or neutered dog can compete in all AKC events except in the Conformation classes (breed ring). In addition, we offer rebates for SPAY/NEUTER and for selected titles (listed in our puppy contract).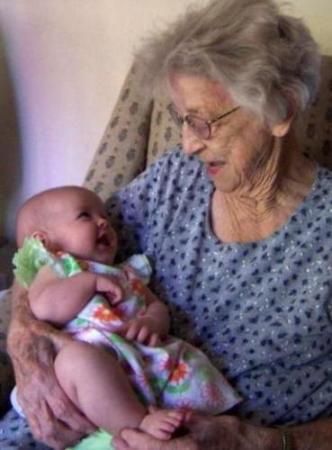 July 29, 2007 - Not only do we have dogs, but there's grandchildren too! Our youngest grandchild HaleyKate is seen here with MY Grandma - her GREAT, GREAT Grandma. I think they are sharing a secret... and she wants to tell you to check out the newest page that highlights our grandkids. Click on the photo to see them --> IMPORTANT! We are AWAY from our email over the weekends and Holidays. It sometimes takes several days before receiving a reply from us. We aren't ignoring you - HONEST. If you think your email has been overlooked, feel free to resend it. THANK YOU in advance for your understanding! (You can call).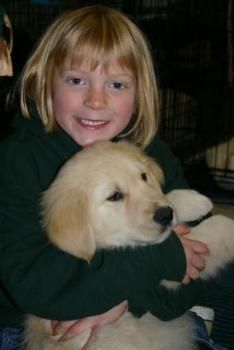 LAMBRIAR VET SUPPLY is where we get the majority of our doggy supplies... CLICK HERE to go to their site and see the great prices! The 2 cuties in the picture are Margaret and Jake. Jake is a Pete/Soda puppy.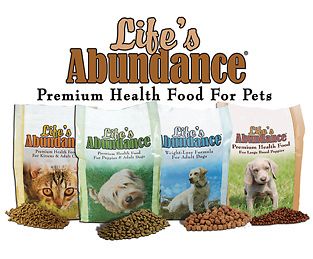 I researched and really want to feed a raw diet to our ADULT dogs--but Ronnie says too many dogs for that! YEARS OF RESEARCH - TRYING TO FIND THE BEST DOG FOOD not only for US to feed OUR dogs, but also to reccomend to our puppy families has lead me to LIFE'S ABUNDANCE PREMIUM DOG FOOD! CLICK THE PHOTO to learn more!The food has been specially designed to provide all the key nutritional benefits received from the feeding of raw food diets but with the benefits of 21st Century nutritional research.
There's even a weight management food for our older dogs. LIFE'S ABUNDANCE foods include a selection of nutritious vegetables and fruits as well as premium protein sources and a proprietary blend of vitamins and minerals.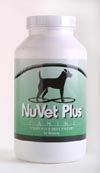 IMPORTANT! We all know antioxidants are important to us.The metabolic villains that scientists call "free radicals" are the reason antioxidants are so important. Free radicals are unstable molecules that our bodies form in the normal processes of breathing and digesting food. If they're not stopped, free radicals can damage important parts of our cells -- for instance, the DNA. Once damaged it can lead to weakened immune systems, cancer, and heart disease. But wait! There IS good news... Antioxidants -- the "good guys" -- are on a mission to wipe out free radicals!
The importance of antioxidants can't be overstated. Although they're not "magic bullets," they do slow down the aging process and protect against many diseases. THE SAME IS TRUE for our dogs! With the cancer rate increasing so rapidly in Man's Best Friend, in addition to trying to breed quality dogs, we feel it is equally important to help them in this world we share.... pollution, fertilizers, pesticides, medications... not only do WE as humans need protection from these things, our animals do too! Click on the NuVet Plus picture at the left, or click HERE to go to the NuVet site. THESE ARE THE HIGH QUALITY SUPPLEMENTS WE FEED ALL OUR DOGS! (It is even more important if you don't feed a high quality, human grade food like those listed above to you puppy/dog! WE feed those foods, yet STILL use antioxidant supplements -- IT'S THAT IMPORTANT!) YOU WILL NEED THE FOLLOWING ORDER CODE: 39963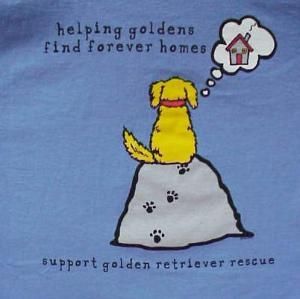 REMEMBER! There are some GREAT Goldens in RESCUE just looking for their forever families!!! For more info, Click here or go to NorCal Golden Retriever Rescue! While you visit their site, make sure you check out the poem and prose page---there are some GREAT stories and poems there!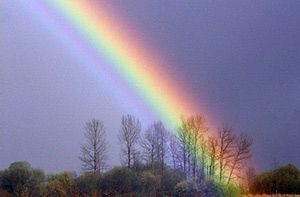 Planning a trip to meet us and our dogs? Maybe to pick up your puppy??? CLICK HERE, or on the rainbow pictured at left and see the up-to-date weather for Central CA!


Want to create YOUR OWN website like I did??? CLICK HERE or on the logo on the left and see how easy and economical it is with 1 & 1 Web Hosting! *I* had never created a website before... and there are many who think I've done a pretty good job. ;-)

ALL CONTENT, COPY, AND PICTURES ON THIS SITE IS COPYRIGHTED AND MAY NOT BE USED FOR ANY REASON WITHOUT EXPRESS WRITTEN PERMISSION. (c) 2004 -2014 PROMISE KENNELS @~START EVERY DAY WITH PROMISE! ~@