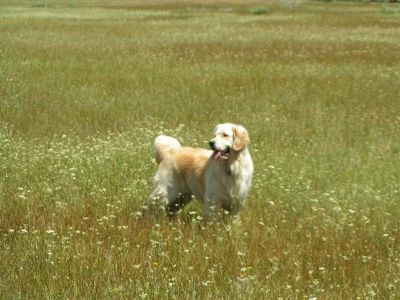 HOPEFULLY they are saying we're like Tony (picture to your right) - you know, OUTSTANDING IN OUR FIELD! Anyway, enjoy the comments.... (Oh, Tony's owners wrote the second message).

Judy!
Sorry not to get back to you earlier.
Simply, Abbi is a total joy! She's sweet, extraordinarily well
behaved--we love her!

It's hysterical watching her play with Bonnes Mares--he's a pup again,
as well. Thank you SO much!!

Julie and Family

~@~@~@~@~@~@~@~@~@~@~@~@~@~@~@~@~@~@~@~@~@~@~@

Judy,I don't know if you got this cute picture so I'm sending it again (see it on the Puppy Pics! page!) We had a most amazing experience with Tony today. We took Tony and one of our JRTs to Carmel because the beaches are dog friendlier there than they are in Santa Cruz. When we got to Carmel there was a street faire that was also dog friendly so we walked the dogs along the booths while heading to the beach. There were tons of dogs of all shapes and sizes but we were barely able to get down the street because people kept stopping us to admire, pet, praise Tony. There were literally crowds around him. People ran out of their shops, people waited in turn just to pet him. They were all exclaiming his beauty and temperament and at times it became almost frantic. One girl called him the 'Brad Pitt' of dogs. It felt like we were out with Brad Pitt. We went in to a dog bakery/toy shop and the entire staff surrounded him and one girls asked if he was a dog model....like on the calendars & ads because she said he had a special 'glow'. It went on like that all afternoon, wherever we went he was mobbed by admirers.Now I know he's cute and sweet and I love him but neither my husband nor I were prepared for everyone else's response to him. Is he THAT good looking? Maybe there is something to this show biz stuff. Michele and Joe

Hi Judy...The pictures in Ventura are beautiful. Is that Heather with Beamer? She looks so lovely. Just want you to know that Tony's been the BEST boy in obedience class and the teacher Kitty Fields, used him as an example for the class to show a dog who is not just bred for beauty but an example of an all around well bred dog. Michele

~#~#~#~#~#~#~#~#~#~#~#~#~#~#~#~#~#~#~#~#~#~#~#~#~#~#~

Hello,
My name is Marc, and I am Diane and Jeff S.'s (who adopted Katie) son.
I was very impressed with the experience my folks had with you guys, and
went back recently to enjoy your site. We are in the middle of remodeling
our home in Corona Del Mar, CA, and are in discussions about adding a Golden
to our family. The attached photos were taken the day after my parents
picked her up from you guys. (See these pics on the Puppy Pics! page). As you can see, she adjusted immediately...Should we decide to add another member to our family, we would definitely be in touch, and hope we get lucky on the timing
(I saw you may breed again this summer). Great to have a sibling of Katie's
stay in the family as well! Thanks again for the great experience you
extended to my folks.

Marc

~%~%~%~%~%~%~%~%~%~%~%~%~%~%~%~%~%~%~%~%~%~%~%

Weston is just adorable. We all have just fallen in love with him.
Getting used to everything, you can imagine...Saw a great vet yesterday. She was referred to me by some friends. They raved about his appearance, markings, health, and temperament - people just melt when they see him... Weston is such a wonderfully tempered dog. He is just a delight for all. You did a great job and it pays off. He is ALL puppy when he is in his active, but also just calm and luvable when he gets his energy out. This kids are having such fun with him. He is doing great with his sit, down and coming to his name. He is great with toe, ear, mouth checks - showers too! Nancy J. (NOTE: Weston is now a CERTIFIED THERAPY DOG, like his dad, Pete!)

~*~*~*~*~*~*~*~*~*~*~*~*~*~*~*~*~*~*~*~*~*~*~*~*~*~*~*~*

Hi Judy!
Your puppy manual is terrific!!! We were so pleasantly surprised to receive it from FedEx on Saturday ahead of schedule -- we've been just pouring over it ever since! ...we're like giant sponges taking in all this important information. Thank you so much for the puppy manual, it really helps make us feel better prepared. Best, Emily N.

Hi Judy,
It was so nice meeting you and your family yesterday,and thank you for spending time with us! I'm happy to report that Sena (AKA Blue/Cami) is doing really, really well. As we drove home to Menlo Park, she whimpered only for the first 3 minutes, and for the rest of the drive she settled in nicely, took a nap, and enjoyed classical
music.

On her first night she slept in her crate and was quiet through the night. I took her outside at midnight and at 4AM just in case, but she was happy as a clam to lie in her crate till we woke up in the morning.

So far Sena's reacting well to our house and is not bothered by the sounds of the washing machine nor my typing. She has taken to a snake doll and keeps it with her when she naps. And we're frequently practicing the sit, down, come, and off commands too. Thank you for giving us a headstart on her training! We can see that it's making a HUGE difference!

Thanks again,
Emily


~@~@~@~@~@~@~@~@~@~@~@~@~@~@~@~@~@~@~@~@~@~@~@~

Ron and Judy,
I just wanted you to know Roxy is doing great!!!!! We are so happy with her. Her temperament is amazing. ...She is the best thing for our family and we are so happy with her. She has not only been a blessing for us but a blessing for out extended family as well. My parents just love her and my father in law can't go 2 days with out seeing her. She is constantly "smiling" and brings joy to us all. We could not have asked for anything better. Thank You!
Jennifer P. (See pictures of Roxy on the Puppy Pics! page)



Hi Judy,
just wanted you to know that Roxy is great. She is learning all sorts of things. she can roll over, shake, stay, sit, lay down, retrieve the toy she is thrown and get the right toy when we tell her, like "go get your monkey" and she will get her monkey. She is very smart and very calm. She obey's well. She has not even tried to chew furniture or anything like that. She has been swimming and loves it!!!!! She jumps in her own baths and when I give Caitlyn a bath she gets jealous and lays next to the bath tub with sad eyes...We love her to death....hope all is well and Happy Holidays
Jen

~!~!~!~!~!~!~!~!~!~!~!~!~!~!~!~!~!~!~!~!~!~!~!~!~!~!~!~!~!~!~!~!~!~!~!

Dear Judy,

Jade is a wonderful and impressive puppy! (See pictures of Jade on "More Pups Pics" page). From the car ride home from your place (six or seven hours I think) she was great, and is still great in the car when we have to go places… she does not get car sick or bark and behaves very well in her crate. She was great at the vet and every one fell in love with her. Also I was very impressed when we gave her first bath, even more so when we gave her second bath, she loves bath time. The past couple of weeks (felt like a couple of days) with her at home have been so great I did not even realize it until I went to school yesterday because I missed her every minute!

Your "puppy manual" was also GREAT! It helps me a lot and it was great of you to send it before the girls were even born because it gave me time to read it several times. There was a ton of countless information that was and is very useful to me. Without it I would have been very clueless with a lot of stuff. I really do appreciate all this information, not to mention ALL the help verbally over the phone, with training questions, product questions on what to buy for her, and even showing me how great Canidae food is and why I do not need "puppy food" that has a bunch of stuff she does not need. I tell you, there are not that many people out there today that would put that much time into helping somebody, and taking all the phone calls!

I am so lucky and privileged to have gotten such a wonderful Golden Retriever. Overall I just wanted to say thank you for everything!

Yours truly, Jeremy S.

~@>>~@>>~@>>~@>>~@>>~@>>~@>>~@>>~@>>~@>>~@>>~@>>~@>>~

Hi Judy!

We've ("Red Paw", now known as GRACIE) had minimal potty accidents and she sleeps through the night! She loves our yard - wait until spring and summer when everything has grown in! She loves the grassy bushes most. She runs into them and rubs her body all over and rolls around. She has also stashed three toys in one of the bushes - too funny!

She just ran upstairs where I'm typing on my computer. We try and keep her
out of the upstairs as that's where the carpet is, but she's so attached to
me she wants to be by my side at all times. Everyone who has met her is
amazed at how calm she is. She also NEVER is nippy, nor does she try and
chew on peoples hands like most pups. You really do breed lovely dogs! (Maureen and her family had us keep Gracie until she was 14 weeks old. We started her training, worked on bite inhibition and crate training. We can do that for ANY of our puppies, although there is an additional cost. Ask us if you are interested!).

Warmly, Maureen

<@> <.@> <@> <.@> <@> <.@> <@> <.@> <@> <.@> <@> <.@> <@> <.@>

Judy,
Just wanted you to know how things were going.

Max is still an incredibly intelligent and handsome dog. I believe I told you that I had started doing dog training with him and for the last 2 weeks – he has been the star pupil. He just gets it – he loves to please and so once he realizes what you want, he does it. He has his sit, down, stand, sit-stay, down-stay and stand-stay pretty much down. This week we have to work on COME and FINISH where he walks around me to finish on my left side. He always comes home so tired from class – right now he is curled around my feet out cold!

He and the kids do really well together. He just adores Ben and will greet Ben every morning with a toy. They are so cute together...... S. Walsh

@@@~~~@@@~~~@@@~~~@@@~~~@@@~~~@@@~~~@@@~~~@@@

ALL CONTENT, COPY, AND PICTURES ON THIS SITE IS COPYRIGHTED AND MAY NOT BE USED FOR ANY REASON WITHOUT EXPRESS WRITTEN PERMISSION. (c) 2004 -2009 PROMISE KENNELS @~START EVERY DAY WITH PROMISE! ~@