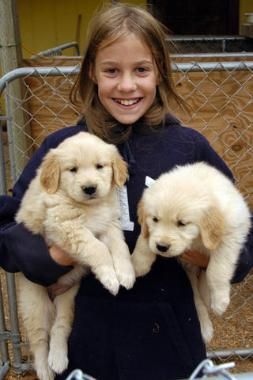 Both Golden and Springer litters are BEING PLANNED. If you are interested in getting on a list for the next, or a future litter, please fill out a puppy questionnaire. Remember we normally have every puppy in each litter spoken for BEFORE they are born, so PLEASE plan accordingly! I do my best to respond to emails, but if you think I overlooked your questionnaire, please re-send or give me a call 559-355-9914. ~For GOLDEN info CLICK HERE. ~For SPRINGER info CLICK HERE.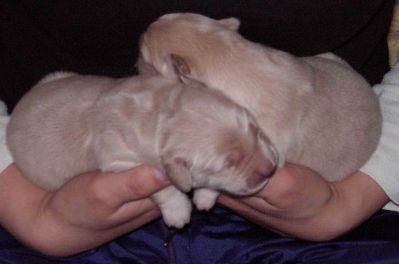 PLEASE NOTE: The first step in acquiring a PROMISE puppy or dog is to click here to FILL OUT THE PUPPY QUESTIONNAIRE. Our puppies are available until we receive a deposit. We do not "save one for me" without a deposit! We require a $150 NON REFUNDABLE deposit. PLEASE make sure you have thought about your new puppy and the responsibility of having one FULLY before making a commitment! CLICK HERE to read how to slelect the right puppy size. Use your browser's BACK button to return to our site!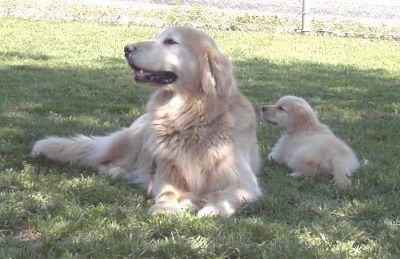 Here is a profile view of Pete, along with one of his daughters.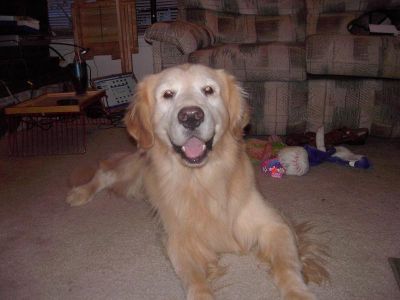 SMILE!! This is the picture we used for Pete's Certified Therapy Dog Badge. More pictures and info on Pete can be found on the RETIRED & RELAXIN' page.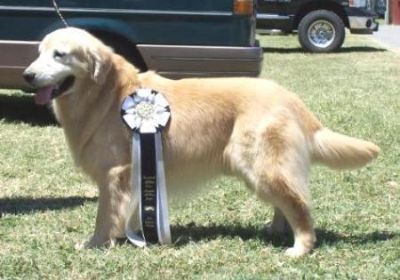 WE ARE NOT A BACKYARD BREEDER, NOR ARE WE A PUPPYMILL. We breed a litter to have something to show in the ring, or to train for a purpose (therapy dogs, service dogs, obedience...).Health clearances have been done on all parents and grandparents, and great grandparents, etc. for more than 6 generations in the pedigree. You will get copies of all clearances in your puppy packet, and a copy of the pedigrees. This picture is Pete, after winning Best In Show Veteran for 2 shows, and Reserve Best In Show Veteran for 2 shows in June 2006.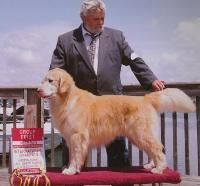 (Pic on the left is of Pete age 6 1/2 yrs). Puppies have a health guarantee, and also will have been seen by our vet for a clean bill of health before they go to their new home. This will include first shots, a fecal sample to check for parasites (worms), a heart check (for murmurs), and a general once over for health. We do this with all our dogs as a general health policy. Puppy Manuals (really a binder full of info) include general health info, feeding directions, training instructions (including housetraining), info on what you will need at home for your new puppy, health certificates and parents' clearances, pedigrees, AKC registration, info on things you can do with your dog: field, hunt, conformation (if bought on a show contract), agility, obedience, Therapy, assistance/service, flyball, etc.. Also a list of title abbreviations, so you will know what the suffixes and prefixes in your puppy's pedigree mean. Once we receive your deposit, we will email you the Puppy Manual. Make sure you print it out and bring it with you when you pick up your puppy, as the contract, AKC registration and puppy health info will be given at that time. Also, we will have pictures of your puppy for your binder or photo album.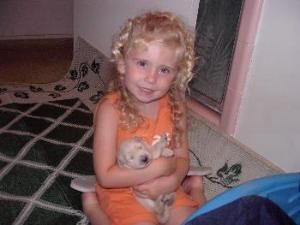 Hey Mom, CAN I KEEP HIM??? My nephew's daughter seems to be in love, and who can blame her? The puppies are 10 days old. Even though they can't see us or hear us yet, we hold them and take time with each one every day. This helps them become better adjusted puppies and dogs when they grow up.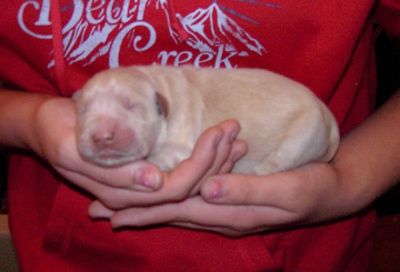 What a sweet little face!

ALL CONTENT, COPY, AND PICTURES ON THIS SITE IS COPYRIGHTED AND MAY NOT BE USED FOR ANY REASON WITHOUT EXPRESS WRITTEN PERMISSION. (c) 2004 -2010 PROMISE KENNELS @~START EVERY DAY WITH PROMISE! ~@