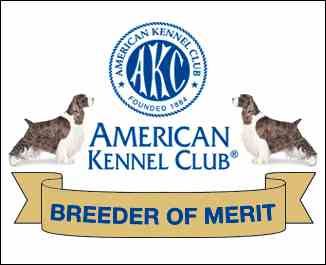 We are PROUD to be AKC Breeders Of Merit!!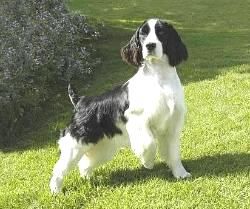 The beginning of our English Springer Spaniels began with Ricky & Sierra... Sierra came from the last litter that Bob & Norma Craig had. We bought 2 springers from that litter, Sierra, a liver and white female, and her brother, Sebastian, a black and white male. Sebastian was shown, but he hated the ring. He wanted nothing better than to curl up at your feet and keep you company. Ricky is from Alice Berd, Pembroke Springers. Alice helped Jennifer work with 2 professional handlers one summer when Jennifer was a Junior in High School.(Picture above right is of Sierra and Ricky's granddaughter, Harley)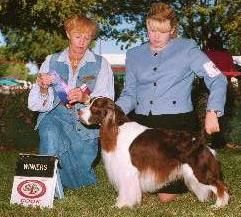 Our beginning into the wild world of dogs and competition began when Judy bought Ron a field bred Springer for his Christmas present for their first Christmas together. After putting a High In Trial (HIT) on our field springer (Fresno County 4H), our daughter Jennifer decided she wanted to enter the conformation ring, and the rest, as they say, is history! This picture is of our 3rd conformation Springer, "Ricky", Pembroke's Merry Maverick, CGC. Jennifer put a CGC title on him, and several AKC points towards his AKC championship. Unfortunately, health problems (her parent's) kept her from finishing Ricky or Sierra (below).


"Sierra", Sierra Queen Of Craiglind, CGC. Sierra also has AKC points towards her title, but at the age of 11 1/2, I doubt she'll get in the ring to finish! However, she and Ricky produced some beautiful babies, and we have proof of that! See Junior's and Keeli's pages and you'll be a believer too!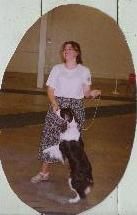 Here is another picture of Jennifer and Sierra, having fun in the ring, at another show in Fresno - Sunmaid Kennel Club. 1996. I know there are more show pictures of Ricky and Sierra (some are framed and on the wall). If I get an extra minute I will try to scan them in here also. Although Ricky and Sierra didn't finish their AKC championship titles, we did breed them...and we kept several of their offspring. AND WE ARE SURE GLAD WE DID!!! They produced Junior (Int'l Ch/Nat'l CH Promise's Junior Maverick) and Keeli (Int'l CH Keeli Ni' Sierra--who only needs 2 more points for her AKC Championship!).

ALL CONTENT, COPY, AND PICTURES ON THIS SITE IS COPYRIGHTED AND MAY NOT BE USED FOR ANY REASON WITHOUT EXPRESS WRITTEN PERMISSION. (c) 2004 -2011 PROMISE KENNELS @~START EVERY DAY WITH PROMISE! ~@