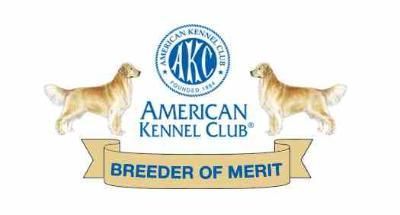 We are PROUD to be one of AKC's Breeders Of Merit! Click on the logo to see what that means!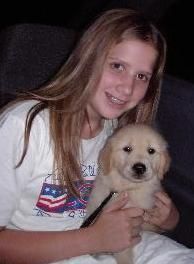 You can't buy loyalty, they say
I bought it though, the other day;
You can't buy friendship, tried and true,
Well just the same, I bought that too.
I made my bid, and on the spot
Bought love and faith and a whole lot
Of happiness, so all in all
The purchase price was pretty small.
I bought a single trusting heart,
That gave devotion from the start.
If you think these things are not for sale,
Buy a brown-eyed pup
With a waggly tail! ----Author Unknown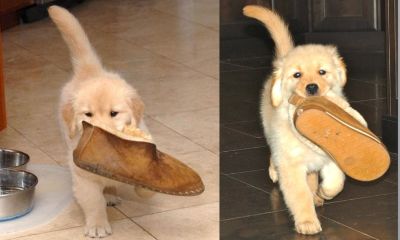 Cute photo of Tonka as an 8 week old puppy and his son Tanner Sherwood, copying daddy!! THANK YOU Sherwoods for sharing!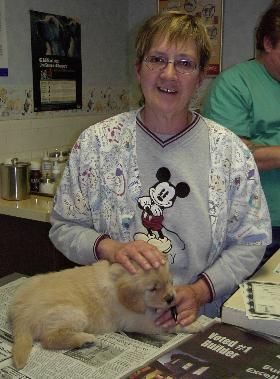 I read the above poem at Veterinarian Dr Cadmus' office in Oakdale, CA, where we take the dogs for their OFA clearances. I liked it so much, I thought I would include it here on our website! Our vet Kitty Kenyon is great too -she's an animal fertility specialist! And before it crosses your mind, NO, we haven't needed a specialist in that area - but it's good to know she's just down the street if we do! Kathleen is pictured at right, along with a Pete/Roxy puppy during a 6 week puppy check. (Kitty raises Great Danes. See her website by clicking KENYON'S @ DOGCREEK).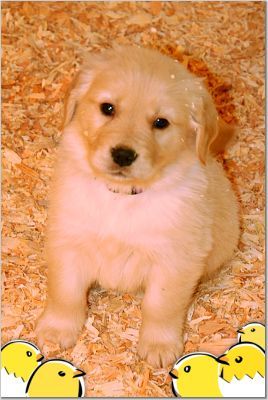 What kind of puppy is this????? It's a CHICK MAGNET!!!!! A Pete/Rae puppy.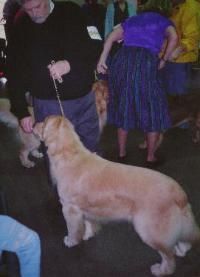 This is Pete, Our first Show Golden, at his first Golden Retriever Specialty in Santa Clara in 1999 at 13 months old. Well, I suppose we should say Pete is the first Show Golden we bought that was actually good enough for the show ring! Sometimes, no matter how well you plan, things just don't go quite right. Pete's registered name is: CACH-B Int'l/Nat'l Ch Stylish Dreams Of Promise CGC, TDI. You can find his pedigree by clicking this link: http://www.k9data.com/pedigree.asp?ID=109297 Pete's dad is "Casper" who was the number 3 Golden in the USA in 1997 (CH Lovejoy's Catchme If U Cancan SDHF, OS. Pete's Mom is Chuckanut's Sierra In A Sunset. One of the pictures on Pete's page shows Pete at this show meeting his Grandma and Great Grandma.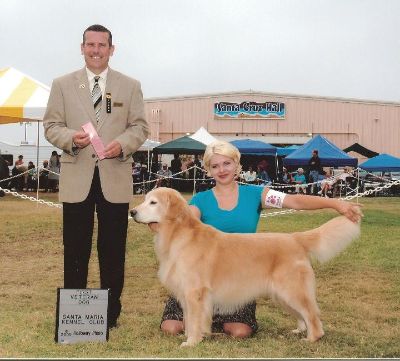 A show picture of Pete, (CACH-B Int'l/Nat'l CH Stylish Dreams Of Promise, CGC TDI) winning first place, VETERAN'S DOG at Ventura, CA in July 2005. (Judge Dana Cline). Daughter Heather is the handler.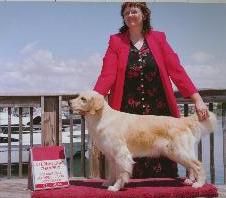 Taken in 2005, Our Golden Angel (UCICB Int'l CH). Angel is a beautiful golden who is now retired. She has a wonderful, healthy, double coat, excellent front and rear angulation with a wonderful stride and topline. Correct dark pigmentation on nose/muzzle and around, soft, expressive eyes. One of the judges remarked that Angel was the most feminine golden bitch she has ever seen!


Here is a SUPER picture of TONY, who loves the water. Tony was born July 8, 2004. See him on his own page by clicking his picture.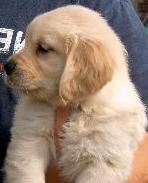 We had to put this cute guy in here - Who can resist an adorable puppy??? This is one of Pete's puppies from a litter last year for another breeder. Puppies ARE cute, but PLEASE, THINK about the commitment and responsibility of owning a dog. They don't stay this size forever. And, it's OKAY to THINK ABOUT ADOPTION! REMEMBER and SUPPORT RESCUE!

ALL CONTENT, COPY, AND PICTURES ON THIS SITE IS COPYRIGHTED AND MAY NOT BE USED FOR ANY REASON WITHOUT EXPRESS WRITTEN PERMISSION. (c) 2004 -2011 PROMISE KENNELS @~START EVERY DAY WITH PROMISE! ~@