We are continually creating content for this section. Please stop by again. Thank you for your interest! AND *IF* you are one of our puppy families that has gone to a show and HAS PHOTOS, PLEASE email them so I can add them here! THANKS!


To see some GREAT Jake and Haley photos, check out their NEW website HERE!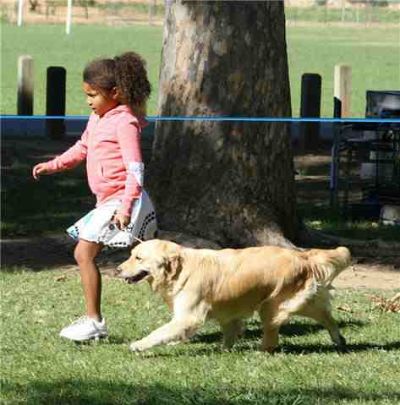 Granddaughter Adrienne and Angel in the ring, struttin' their stuff.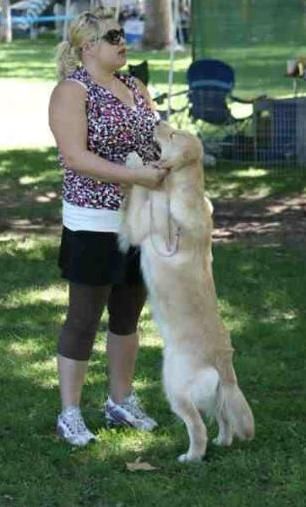 Hope and Heather dance outside the ring.....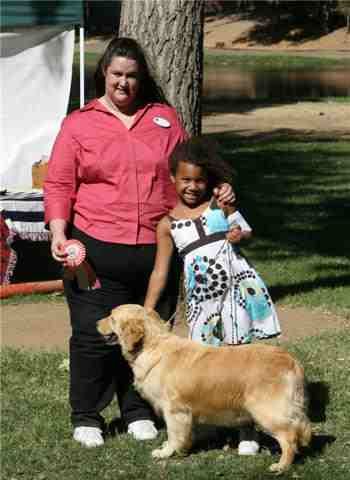 Adrienne, Angel, the judge with Angel's 6th Reserve win.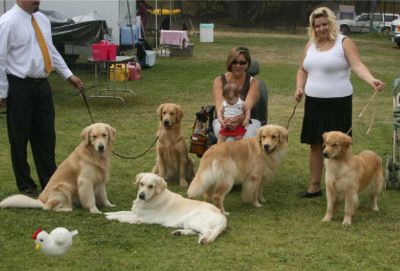 A gaggle of Goldens surround Julane (the baby). Gives new meaning to "Watch the birdie" doesn't it? From left to right: Jake, Haley, a new golden friend, Tonka, Julane, Pam, Heather and Arpege. Oh, and the chicken! (lower left corner of photo)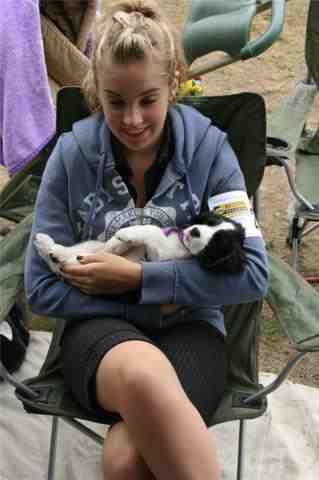 Marika holds Springer puppy Charley who was waiting for his new mom Nancy to meet him.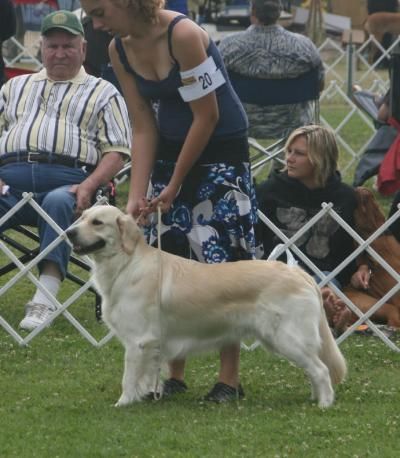 Haley stacked in the ring.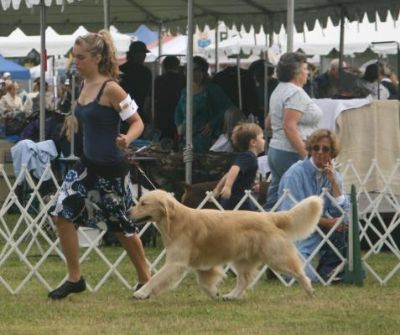 Jake gaiting in the ring. Looks good to me! See more Jake photos by clicking on his picture.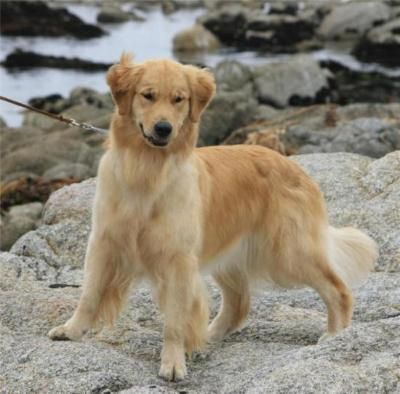 Arpege does a double take at the beach... looking for the stick, a ball or a bird! Visit Arpege's page by clicking her picture.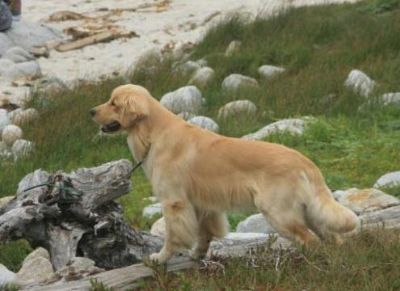 Tonka enjoying the sea breeze. Bet he's wishing we lived in Monterey instead of the Central Valley!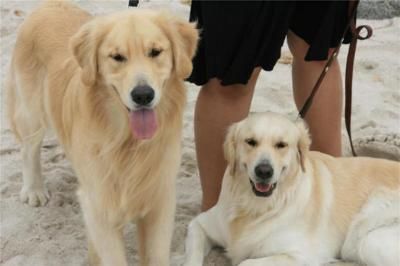 After running around the ring for 2 days, it was time to visit the BEACH! Here is Jake and Haley, relaxin' and enjoying the cool weather.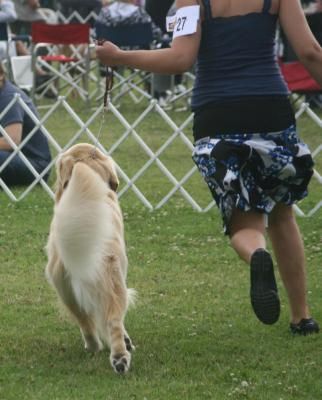 T*H*E E*N*D.... (Jake and Marika in the ring... sorry Steve, I HAD to use it! LOL).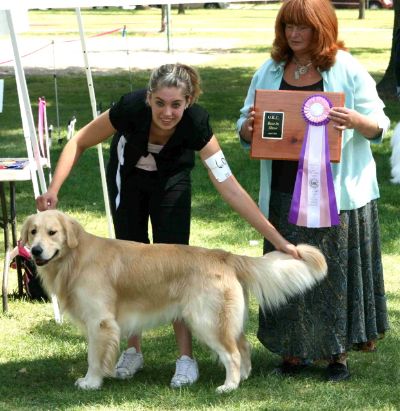 PROUD AS PUNCH! Marika is happy to pose with her NEW CHAMPION and BEST IN SHOW winner, Jake (UKC CH/Intl/Natl J-A CH Promise's Golden Lucky Charm). THANK YOU judge Avril Black for this wonderful win!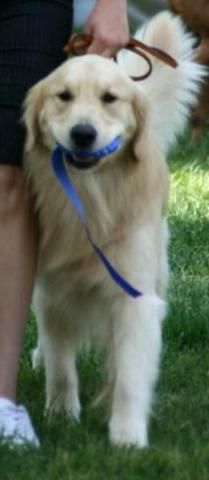 Jake, proudly carrying his FIRST PLACE ribbon from the Gun Dog Group. Jake won the group THREE TIMES out of 4 this weekend! To see more photos of this super boy, click on his photo to visit his web page. Jake is a Pete son out of Soda. Winning his first BEST IN SHOW title and his UKC Champion title at 17 months of age. YAY TEAM PROMISE!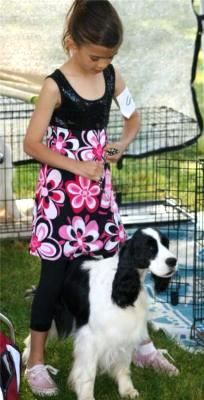 This delightful yong lady is Daniela. She owns Springer Marble. This was her and dad's first dog show. Daniela showed Harley in the Juniors ring. She's getting ready to go in the ring for the first time.... I bet she's trying to remember everything Heather told her!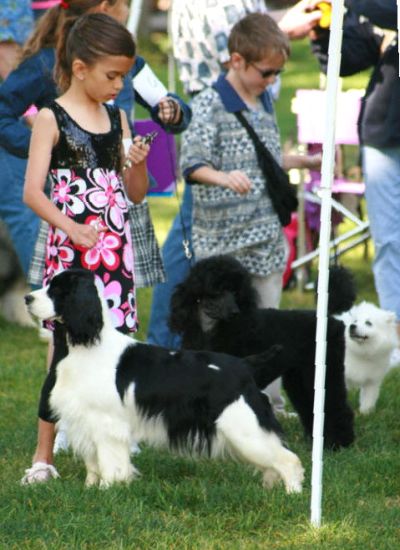 Daniela is working hard at keeping the show lead wrapped up just like Heather told her. Daniela and Harley won 3rd place in Juniors - 3 out of 3 times. Daniela did an excellent job! She handled Harley like a little pro. KUDOS FOR A GREAT JOB!!!!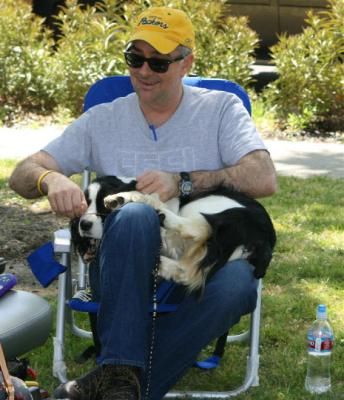 Being at a show isn't ALL work! Here's Daniela's dad, David.... SPOILING "Princess" Harley during a break... Harley brought home a Gun Dog Group 2nd, 3rd and 4th! And, she finished her UKC Champion title too! She's now Am CH/U-CH/Int'l/Nat'l CH Promise's Stop Look N Listen! Click the photo to visit her web page.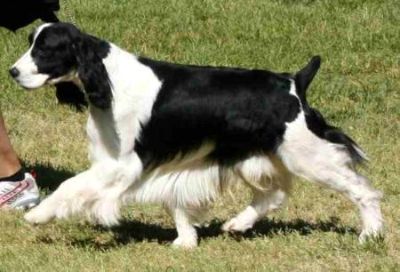 Here's Daniela and David's springer, Owen (being shown by Heather). What a great topline! Looks like a professional show dog, huh? His first dog show, Owen was beaten by Harley, but he didn't care, HE WAS HAVING FUN! I bet he slept all the way home on Sunday!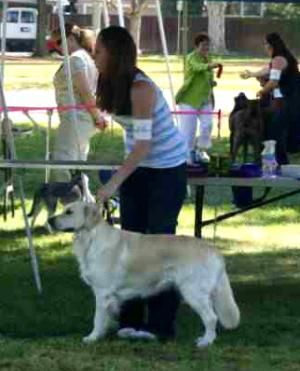 Jessica and Haley in the ring. Haley finished her UKC Champion title this weekend too!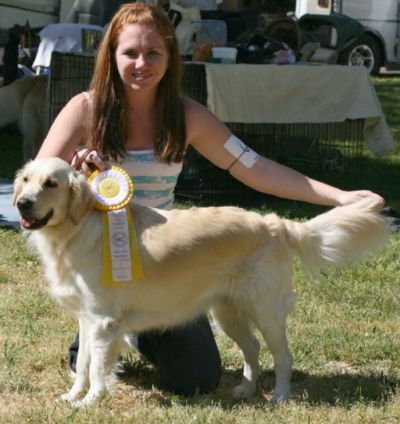 Haley won Reserve Champion twice on Sunday, after completing her UKC Champion title on Saturday. Haley is our dog Brew's half sister (same mom). Thanks go to Jessica, Marika's cousin from Texas, who helped us all weekend!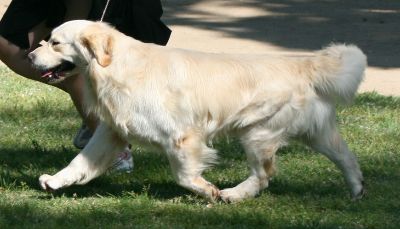 Speaking of Brew, he completed HIS UKC Champion title on Saturday! Click on his picture to visit his web page.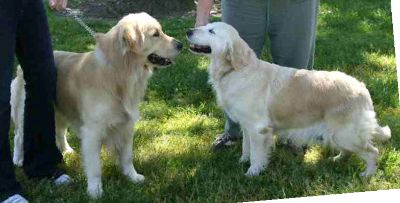 Son Jake and Mom Soda at the Modesto show. This was Soda's first ever dog show and she did very well. Haley and Brew beat her in the ring, but her happy personality never faded! Click the photo to visit Soda's page.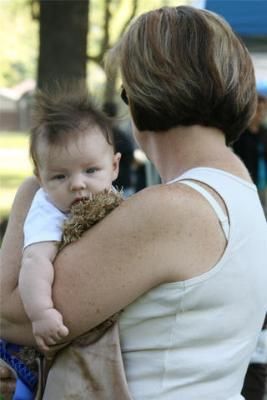 If it weren't for Pam, Marika's mom and Steve's wife, Heather and I wouldn't have been able to get the dogs in the ring! THANK YOU PAM for ALL your help! Julane says thanks to, and she says she wants to know more about the "mousse" you kept talking about for her hair.... ;-)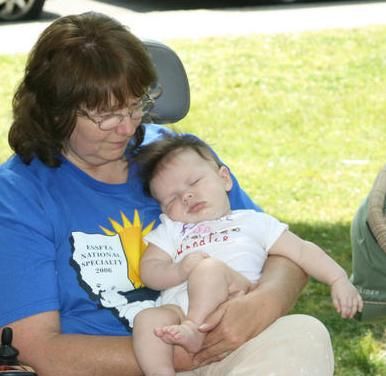 Julane stealing a few ZZzzzsss on Grandma Judy's lap after lunch. Her shirt says, "FUTURE JUNIOR HANDLER".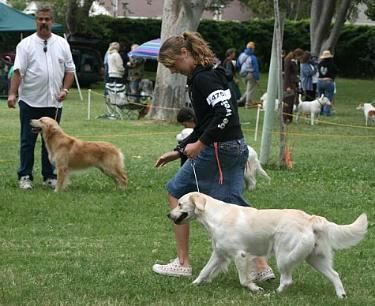 Steve and Remmy is in the background, with Marika and Haley doing the "down and back" for the judge, Antioch, CA. 9/22-23/07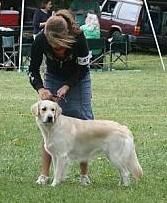 Haley and Marika in the ring. Very pretty European golden.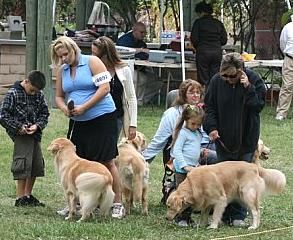 "Team Promise" waiting ringside for show 4 to start, Antioch, CA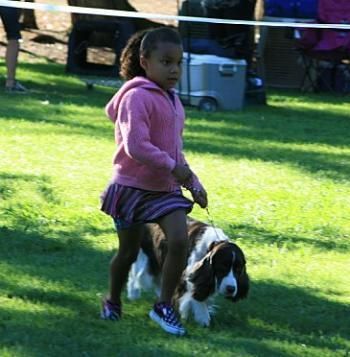 Granddaughter Adrienne, in Junior Showmanship with Keeli. Rancho Cordova UKC show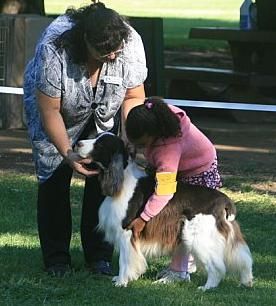 Adrienne showing the judge where the elbow is on a dog.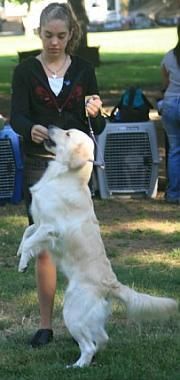 Marika and Haley have fun ringside at Rancho Cordova UKC show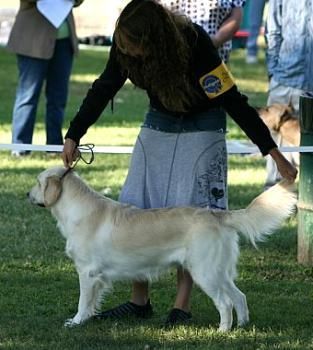 Marika showing Haley's nice structure well.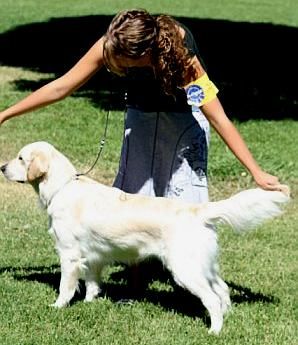 A little over-exposed, but a nice shot of Marika and Haley at the Rancho Cordova UKC show

Marika and Jake go through the paces at the Rancho Cordova UKC show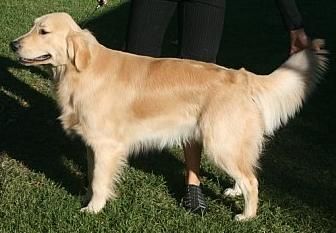 Here's Jake. Marika is learning to stack him--- if she can get him to stand like she has Haley (above) he will look "pert' near plum"!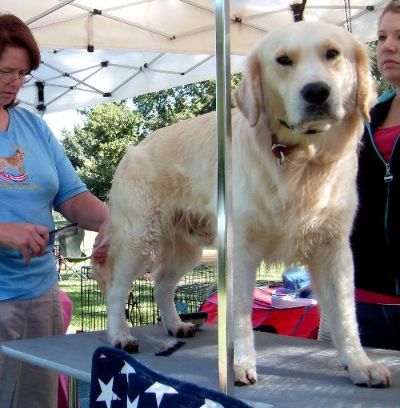 Brew getting beautiful before ring-time. (Rancho Cordova 8/19/07)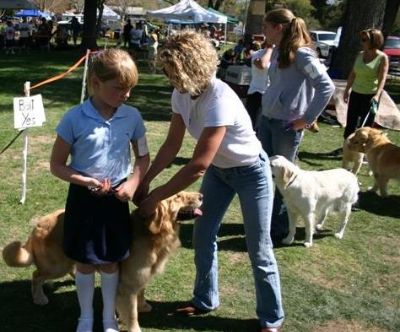 Ringside and waiting...UKC show Modesto, CA 3/17/07. From the foreground backwards, Taylor, Golden Max, Elizabeth (Taylor's Mom), Golden Haley, Marika, Golden Obie (almost out of the pic), Marika's mom Pam (who is holding Jake's leash, but Obie is in the way and you can't really see Jake).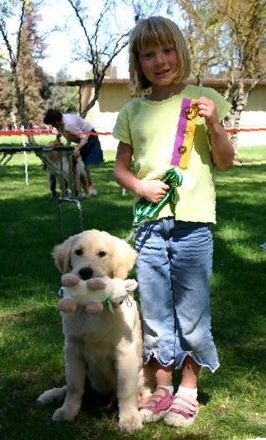 This is a VERY PROUD Margaret with Jake. They won a Group First in the puppy match. 3/18/07 at the UKC show, Modesto. (Jake returns in 2008 and wins BEST IN SHOW!).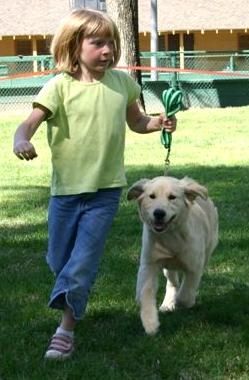 Margaret and Jake, gaiting 'round the ring... on their way to WIN!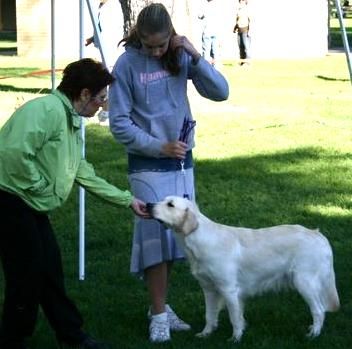 Marika and Golden Haley being judged at the UKC show in Modesto. Haley is such a sweet Golden, and is really starting to fill out nicely.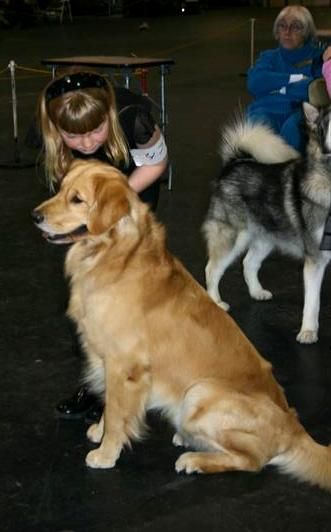 Santa Rosa 1/13-14/07. These 2 cuties are Taylor and Max (a Pete/Roxy dog). Taylor decided after watching Heather show Max, she was sure she could do it too! So, she jumped right in and showed Max in 3 of the 4 shows! Max was in the open class, and was awarded his International Champion title... WAY TO GO TAYLOR! Click on the picture to go to Max's page... see him as a puppy!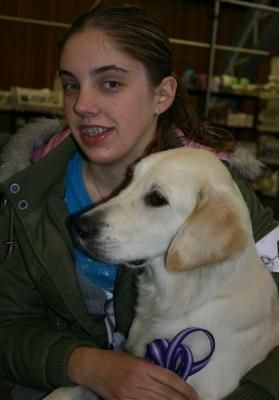 Two more cutie pies (okay, BEAUTIES) are Marika and her young golden, Haley. This was Marika's SECOND show weekend, and Haley's FIRST. They did really well, garnering a UCI JA CH International/National title! Haley's name is now: Int'l/Nat'l JU CH Promise's Haley Bop. A reminder... Haley used to be called "Joy". Her sister Lexi (who used to be called "Cherish") came to see us at the show. See their puppy pictures by CLICKING HERE.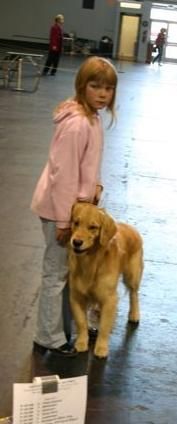 Another photo of Max and Taylor - the first time in the ring together. Taylor got Max to look really good!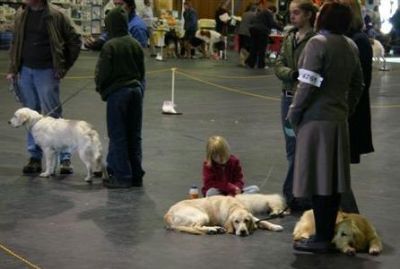 Waiting ringside for the Best Of Puppy class. Gosh, the puppies sure look worried... ;-) I'm not sure who is on the far left, but the group on the right is Margaret (sitting with the puppies), Marika, Dana (one of Lexi's owner) and Heather.The pups are puppy Jake(in the back), Lexi and Remmy.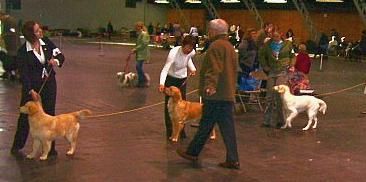 In the ring, Best Of Breed Puppy class. Heather and Remmy are the first ones, Marika and Haley are third.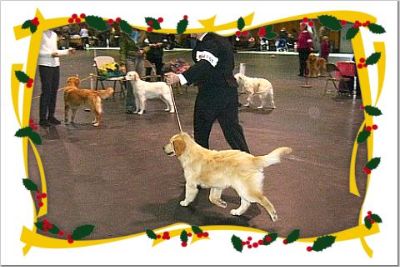 Here's Remmy and Heather (foreground). Marika and Haley are in the background (the light golden, standing so pretty, in the middle). Still in the puppy class.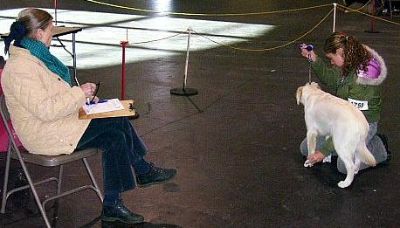 Marika, Haley and the judge... At an Internatinal show, each dog is given a written critique by the judge. Marika is staking Haley (setting her feet where they should be). It was COLD even indoors in Santa Rosa...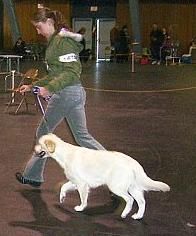 Marika and Haley, setting the pace....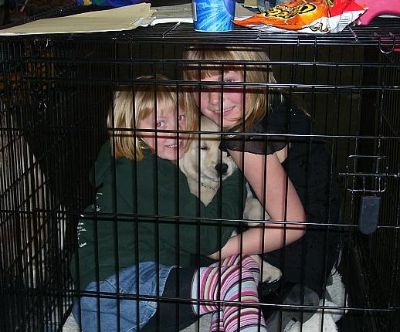 HAHAHA, I just had to add this picture! Taylor and her sister Margaret are in a crate with puppy Jake... As Jake's owner Steve says, "Some kids will do anything to play with a puppy!"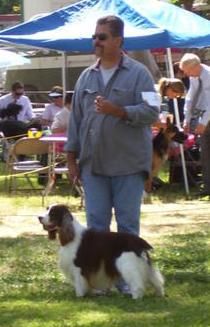 Antioch, Sept 2006 -Steve and Junior... IN THE RING! Steve was commandeered to help in the show ring - NEVER HAVING DONE SO BEFORE! A *HUGE* THANK YOU for being SO WILLING TO HELP US at the show (And FEED US, And help SET UP, and PACK UP -- you and your family are AWESOME!).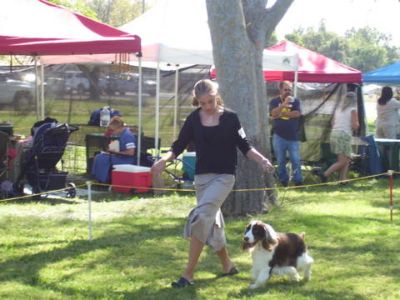 A super young lady, this is Steve's daughter, Marika, in the Junior Showmanship ring - for the the first time! (Junior is helping her learn the ropes).Antioch 9/06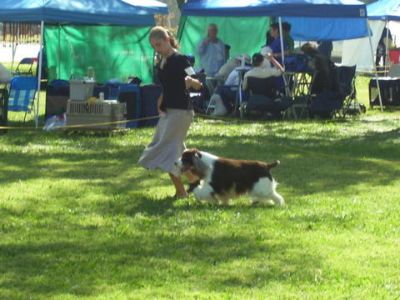 Marika and Junior in the Junior's ring, Antioch CA, Sept 06.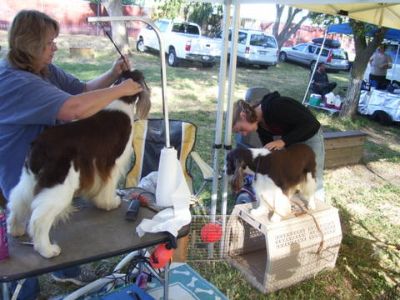 Yup, EVERYBODY gets to learn around here.... Marika with Keeli (on the crate) and Judy with Junior (on the grooming stand).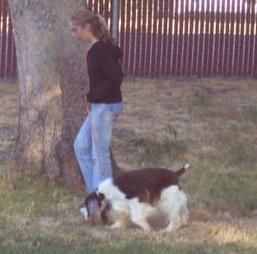 In case you think it's always "Fun and Fluff", we let our friends do the REALLY FUN STUFF, like walking dogs so they can go potty! (Hey, sometimes you just GOTTA GO!). Junior and Marika at Antioch, CA.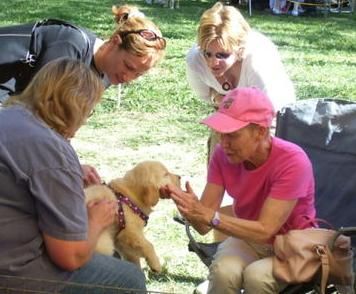 "SHOW & TELL" at the Antioch show.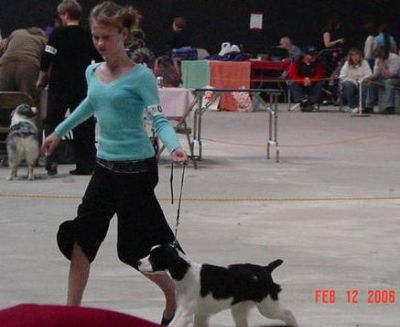 Christine and Harley - BOTH at their first ever show! (Santa Rosa CA, Feb 2006)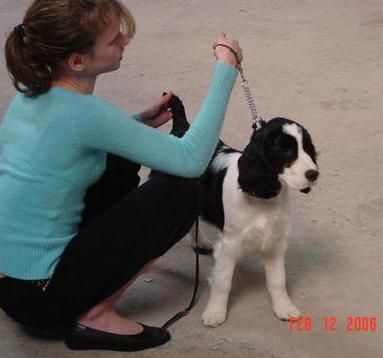 Christine trying to remember everything Heather told her... Keep up the tail, hold up the head, look at the judge, listen to the judge, oops, I should be holding the leash - how was that? (it sure LOOKS easy!).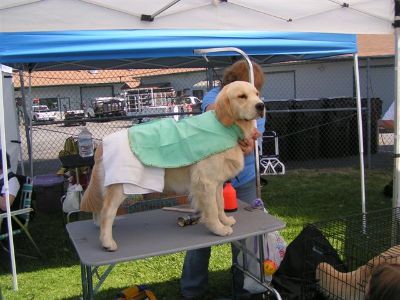 Tony the Golden, in Santa Cruz, CA, getting ready for his turn in the ring, July 05.