W*E*L*C*O*M*E! Everybody is meeting and greeting, and checking out the pools.

Later in the day, the pool water is a little dirtier... But, the dogs are still having fun! Oliver is in the pool, I think it's Sierra and Sherman? joining in the fun.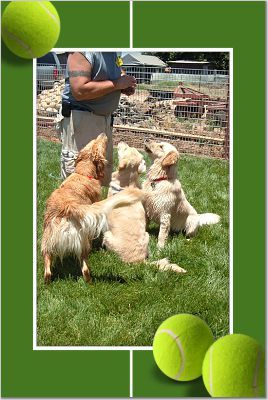 Goodies and Tennis Balls.... Are we in DISNEYLAND??????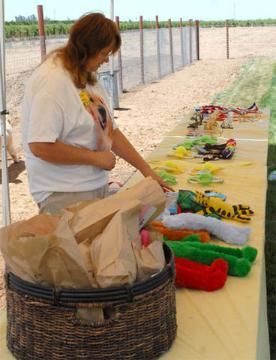 Getting ready to "Let the games begin". The Prizes and awards for the festivities.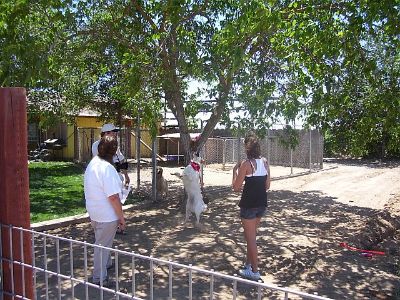 TheTENNIS BALL TOSS N CATCH (Haley)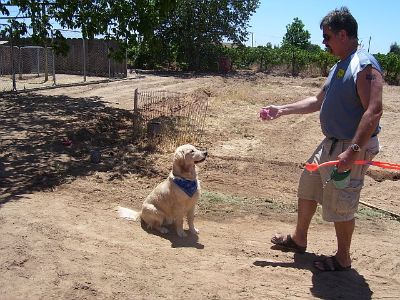 Tennis Ball Toss N Catch (JAKE and Steve).

Jake runs back with the tennis ball.....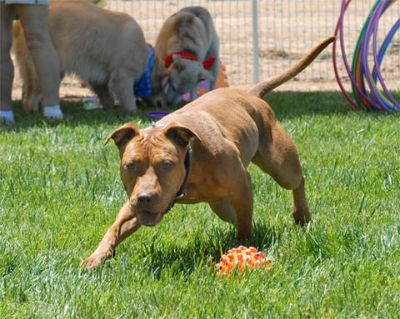 Here's the WINNER of the Tennis ball Toss 'n Cathc... BEAR, the Golden in a Pit Bull body... ;-) That's Oliver and Lightfoot in the background.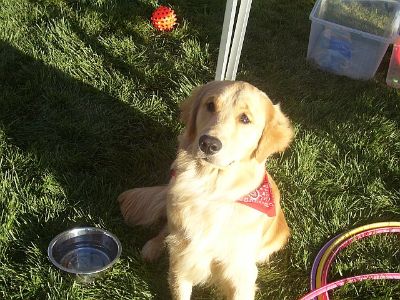 I think this is Oliver... (Could be Remi). They all look so much alike!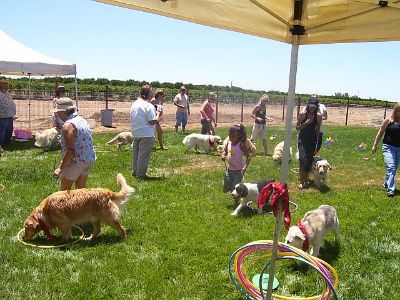 You've heard of Musical Chairs? Well, the dogs got to play Musical SITS...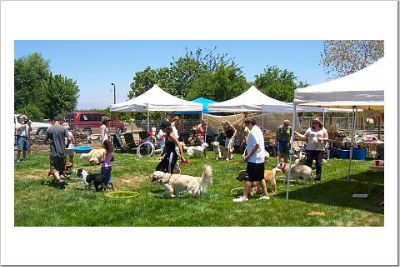 When the music stopped, you had to find a hula hoop....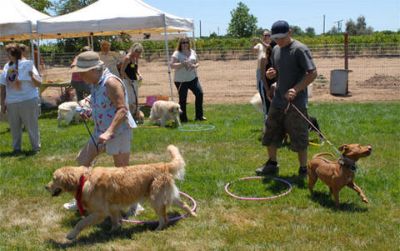 Round and rond we go.... (Yup, there's even a pit bull - she THINKS she's a Golden!).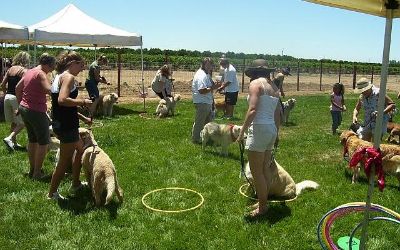 And get your dog to SIT in it!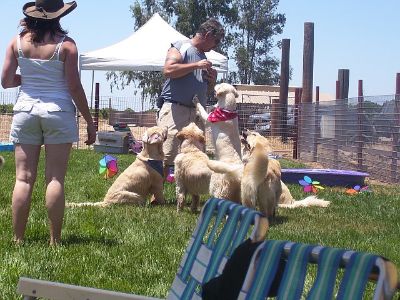 Steve and Tania handing out treats to the golden masses.....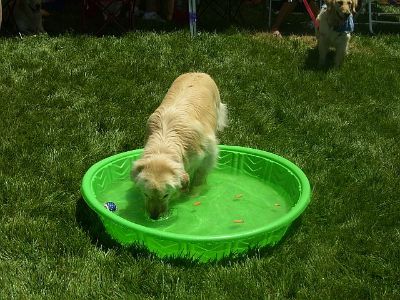 We had HOT DOG BOBBING too!

Obie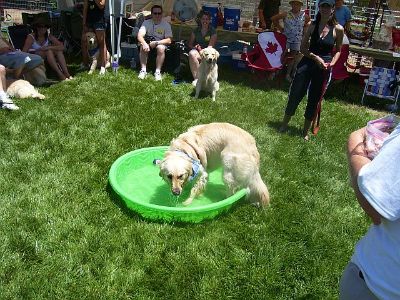 Sherman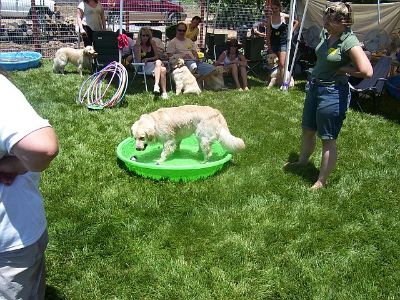 Tate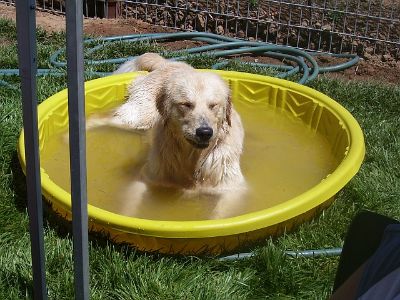 Now, HERE'S a HOT DOG!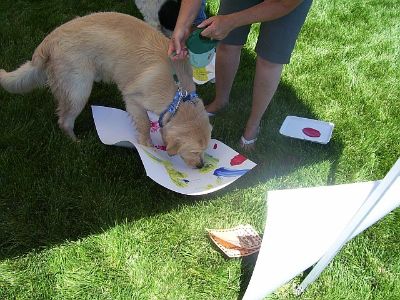 Then it was off to the PAWCASSO tent, where our K9s got creative with the poster paint.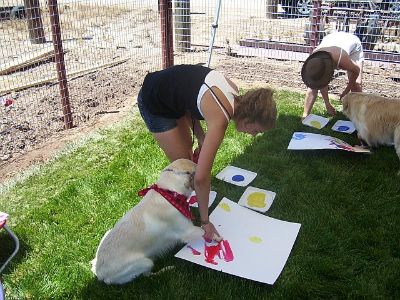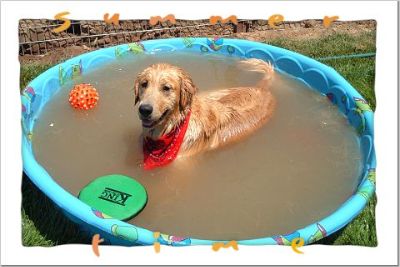 Oliver in the pool, keepin' cool....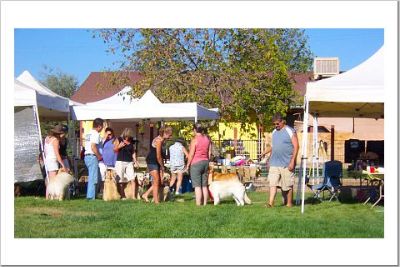 The gang waiting to start the WET T-SHIRT CONTEST!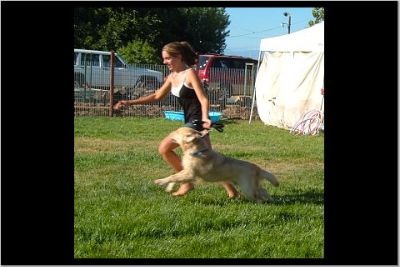 FIRST, you have to RUN to the pools! (Marika and Jake)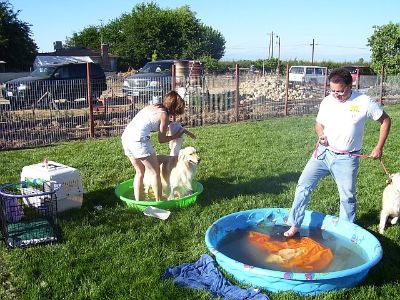 Then you get in the pool......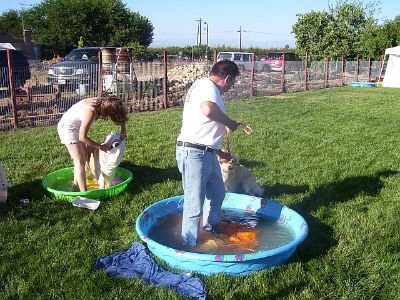 AND your dog into it the pool.....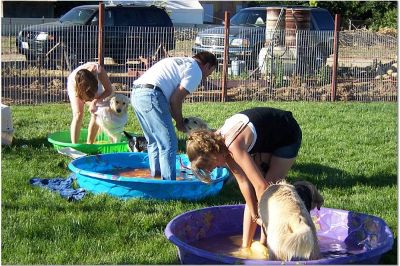 get a wet t-shirt on THE DOG...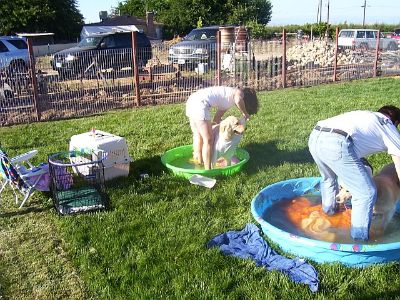 I think everyone had fun....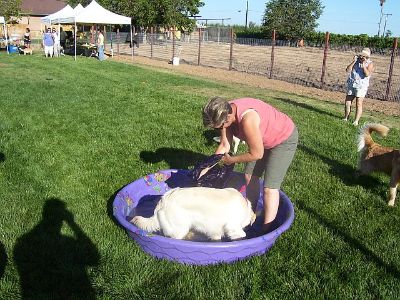 Although I'm sure the dogs thought we had lost our minds!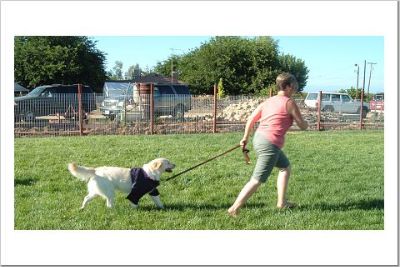 THEN RACE BACK TO THE FINISH LINE! (Pam and Haley)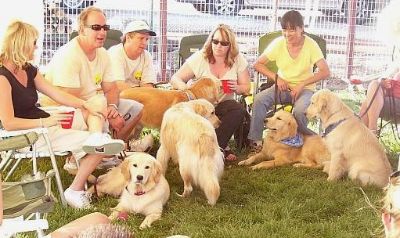 Under the shade... it's break time. Where IS that Bar-B-Que???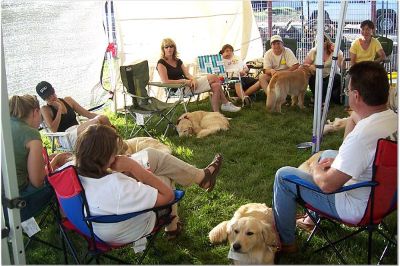 Afternoon story time.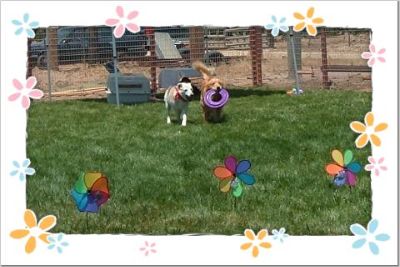 Oliver and Lightfoot... playing FETCH THE FRISBEE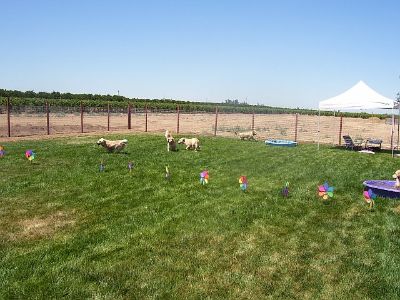 Some of the goldens playing catch (there's a ball out there in somebody's mouth!).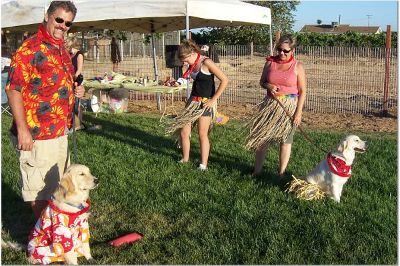 Then there was the costum contest... Where some went to "The Island".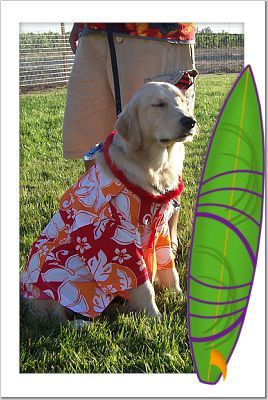 S*U*R*F*E*R D*U*D*E .... It's JAKE...........in the Zone.........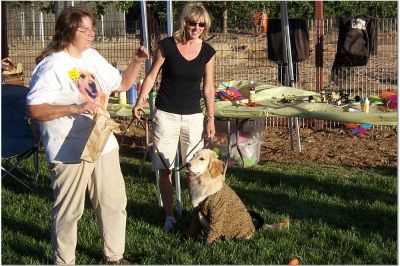 This is Kathy P and Chloe... the cat-dog. Chole was very cute in her leopard skin suit complete with a tail and ears!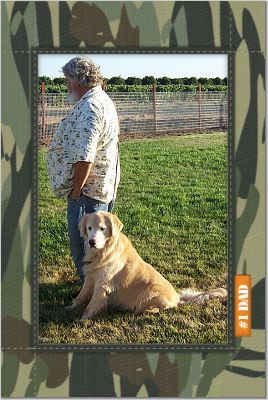 Big-Daddy-Pete came out of his air-conditioned bedroom to make an appearance.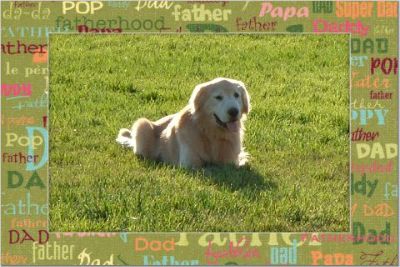 Pete... looks like he's wearing a halo.... My Golden with a Silver Lining...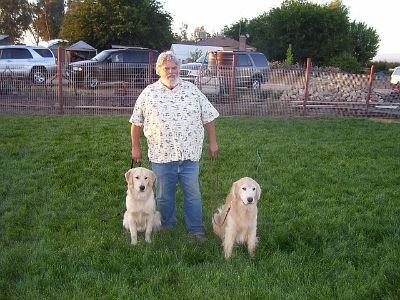 Jake, Ron and Jake's dad, Pete.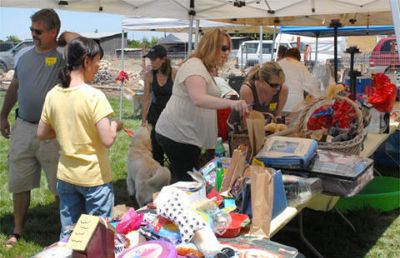 Least you think it was ALL Fun, Games and FOOD, we raised money with our raffle and silent auction for NorCal Golden Retriever Rescue too!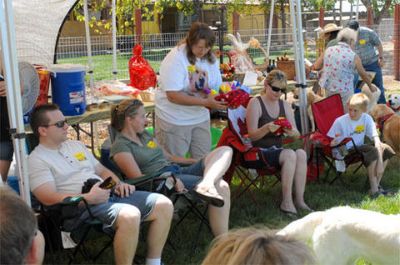 THANK YOU ALL who made this event a success!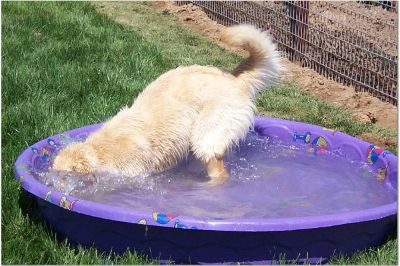 The E*N*D...

ALL CONTENT, COPY, AND PICTURES ON THIS SITE IS COPYRIGHTED AND MAY NOT BE USED FOR ANY REASON WITHOUT EXPRESS WRITTEN PERMISSION. (c) 2004 -2010 PROMISE KENNELS @~START EVERY DAY WITH PROMISE! ~@