We are currently creating content for this section. In order to be able to keep up with our high standards of service, we need a little more time. Please stop by again. Thank you for your interest!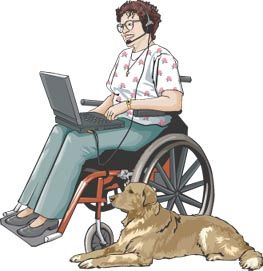 This is a great jpeg, and looks almost like Judy and Pete! Forever on the "'puter", Judy is our resident techie, due for the most part to her son, Christopher. (Who, by the way, can be reached at chris@cafeip.com for web design!). More actual pictures are on their way, so check back frequently!

NEED A SERVICE DOG? There are several options available to you:

YOU TRAIN with your own dog
WE TRAIN your dog, complete with training for you too!
Acquire on of our ALREADY TRAINED dogs, complete with TEAMWORK training
Please understand that we are not a non-profit organization. We do not have benefactors that underwrite the costs of our service dogs. A fully trained service dog has had over 18 months of daily training, health clearances and other vet costs which are factored into the cost. If you are interested in a fully trained dog, please contact us for availability. To help defray out of pocket costs for you, fundraising may be an option to consider. We will be happy to provide you with some great ideas.