TONKA WON HIS FIRST BEST IN SPECIALTY SHOW (BISS) in Houston, TX on 3/19/10!!! PLUS, HE IS NOW AN AKC GRAND CHAMPION AND HAS HIS SHOW DOG HALL OF FAME TITLE completed 3/14/10 in San Antonio with a Group 3 win!!! See his career below as he continues to WOW in the show ring. As of 4/22/10 TONKA IS THE #1 GOLDEN! Breeding available to approved bitches. ALL clearances are normal. Please email for more info.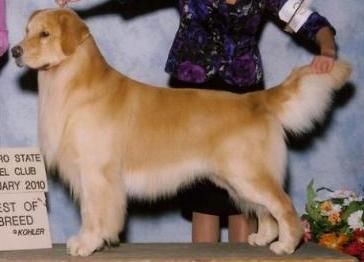 I MUST add a comment here... My wonderful handler is Rebecca Heimann. She and her partner Christian Rangel do an EXCELLENT JOB presenting my boy Tonka at each show. Together they set the standard for quality, professional handling always giving my dogs excellent, personal care. I am SO PROUD & extremely BLESSED to have them as part of TEAM TONKA 2010!!! Once I receive new photos they will be scanned and added.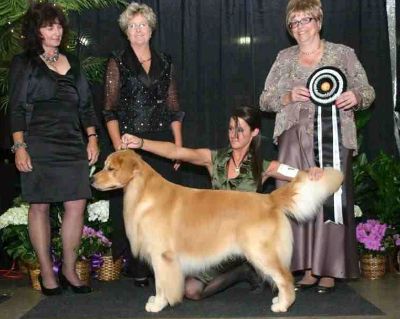 Tonka's GRCA National Top 20 Gala photo. Come see us in Long Beach for the Eukanuba Invitational the first weekend in December!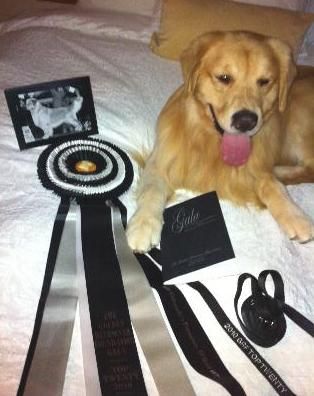 Tonka with his "goodies" at the Golden Retriever National in Greeley CO - after the TOP 20 Gala. I think he likes the bed!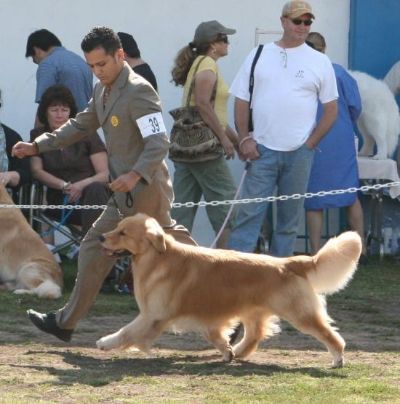 BEST OF BREED August 14, 2010 Torrance, CA South Bay Kennel Club Judge: R. Shreve This BOB win completed Tonka's AKC requirements to become the 26th GRAND Champion Golden Retriever!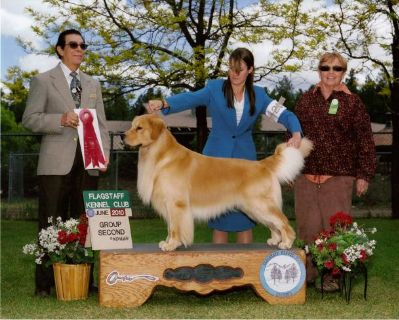 Another GROUP SECOND! June 13, 2010 Flagstaff Kennel Club, AZ. Judge: T. Gomez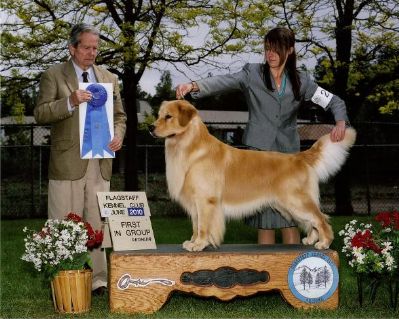 6th GROUP FIRST! June 12, 2010 Flagstaff Kennel Club, AZ. Judge: L. Mathis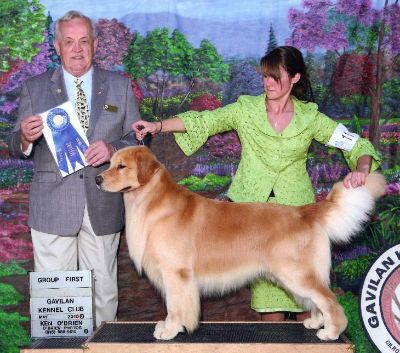 5th GROUP FIRST! May 2, 2010, Gavilan Kennel Club, Hollister, CA. Judge: J. Purkhiser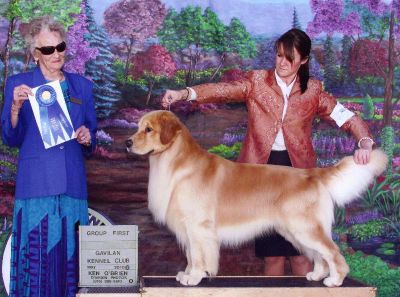 4th GROUP FIRST! May 1, 2010, Gavilan Kennel Club, Hollister, CA. Judge: B. Speich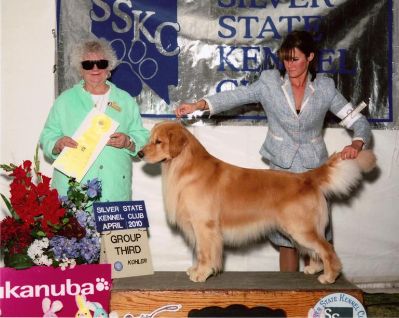 Another GROUP THIRD, April 4, 2010, Silver State Kennel Club, NV. Judge: E. Laurin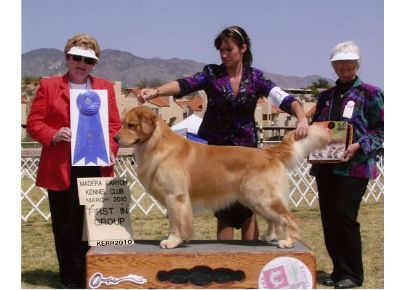 Tonka's 3rd GROUP FIRST! March 16, 2010 Madera County Kennel Club, Tucson, AZ, Judge: J. Brown.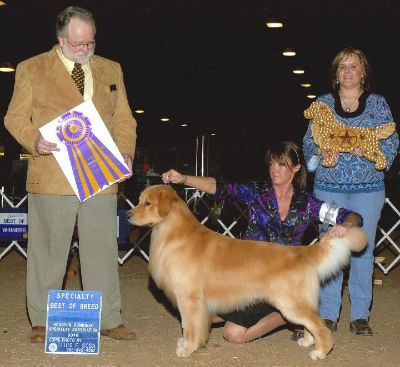 BEST IN SPECIALTY SHOW!!! Tonka received his first BISS March 19, 2010 Greater Houston Golden Retriever Club, Houston TX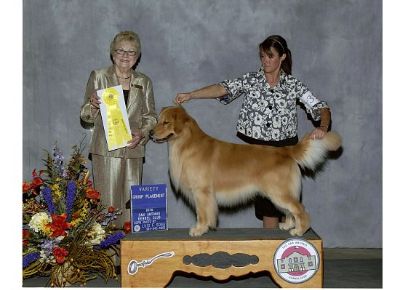 GROUP THIRD & NEW SDHF! March 14, 2010 San Antonio, TX. Judge: L. Boutwell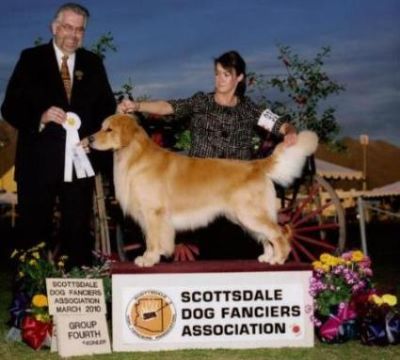 GROUP FOURTH March 5, 2010 Scottsdale, AZ. Judge: J. Reynolds

A GROUP SECOND February 8, 2010 LOST DUTCHMAN Kennel Club, AZ. JUDGE: Mr Robert D Salsbury

A GROUP THIRD February 5, 2010 SAHUARO STATE KENNEL CLUB JUDGE: Mr Carl Gene Liepmann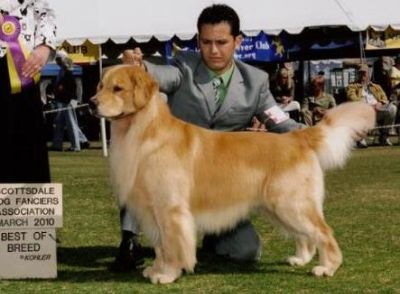 BOB February 5, 2010 SAHUARO STATE KENNEL CLUB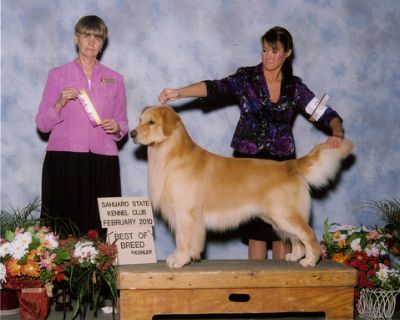 BEST OF BREED photo, February 5, 2010 SAHUARO STATE KENNEL CLUB. JUDGE: Mrs Linda Vaughn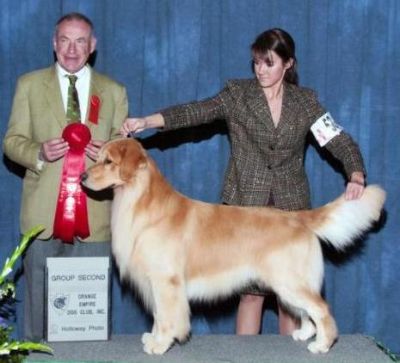 A GROUP SECOND San Bernadino, CA 1/31/10, Judge: M. Anderson.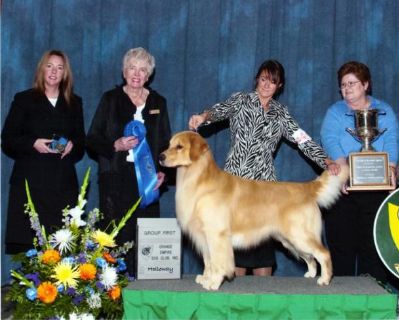 Another GROUP FIRST!!! San Bernadino CA 1/30/10, Judge: R. Anderson.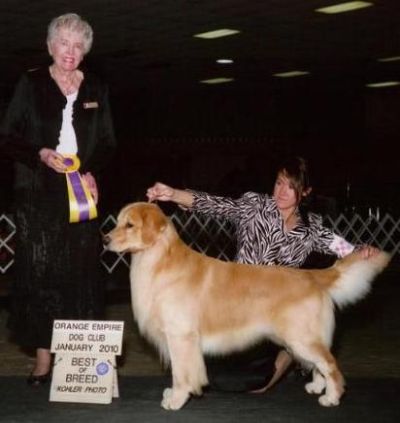 Best Of Breed in San Bernadino, CA 1/30/10, .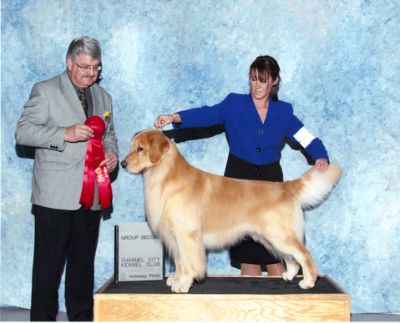 A GROUP SECOND, Ventura CA 1/25/10 making the 4 day show a CLEAN SWEEP for our boy! Judge: R. Lopaschuk.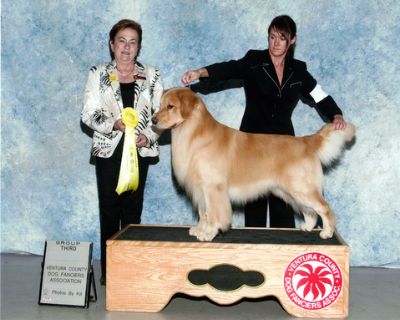 A GROUP THIRD, Ventura CA 1/24/10, Judge: M. Gutierrez-Otero.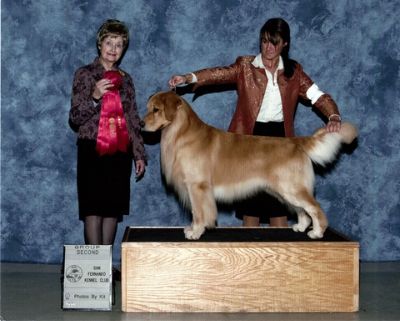 A GROUP SECOND, Ventura CA 1/23/10, Judge: S. Limoges.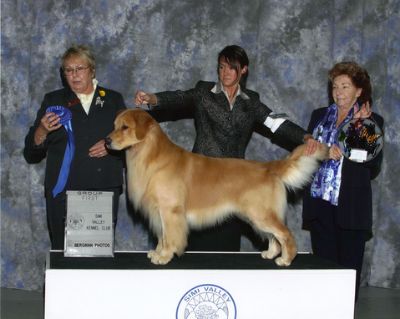 Tonka's first GROUP FIRST! Ventura CA 1/22/10. THANK YOU Judge V. Carter!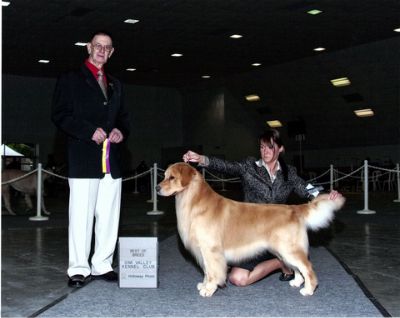 Second of many Best Of Breed placements, Ventura, CA 1/22/10.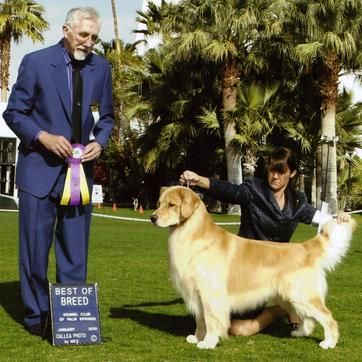 TONKA RECEIVED HIS FIRST AKC BEST OF BREED (BOB) 1/9/2010 at the Palm Springs Kennel Club show in Indio, CA under Judge Stan Zielenski!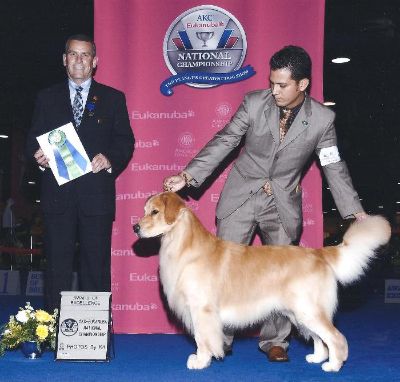 Tonka's JAM at Eukanuba Dec 2010. THANK YOU judge Dana Cline for this jump-start to Tonka's Specials career!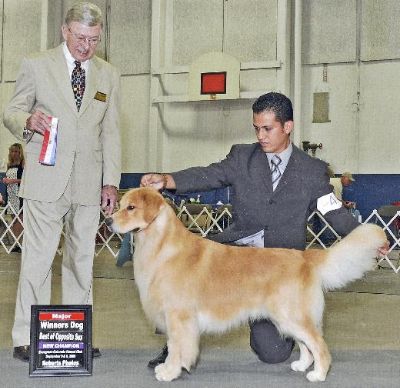 Tonka and Christian winning the last major - He is now an AKC CHAMPION! THANK YOU to our brilliant handlers Rebecca and Christian, and also Tonka's breeder, Chris Browning (Eldorado Goldens). Watch for this boy in the Specials ring soon!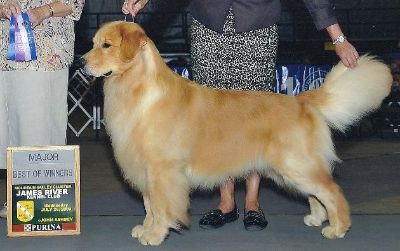 Tonka on the Eastern show circuit with his breeder Chris Browning winning his first of 2 majors.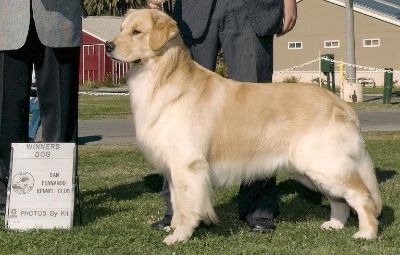 Jan 17, 2009 at the Ventura CA AKC shows, Tonka's FIRST DAY out with new handlers Christian Rangel (in photo) and Rebecca Heimann and he wins his FIRST 2 AKC POINTS! He followed that win up with another 2 points the next day!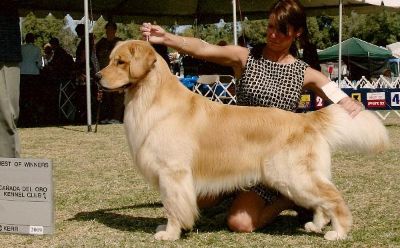 Best Of Winners at Cañada Del Oro Kennel Club.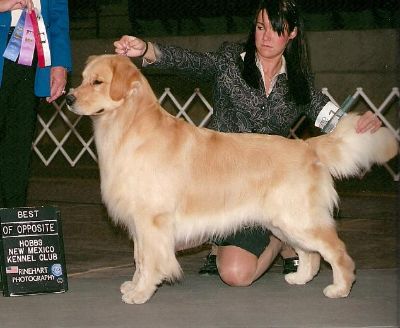 Tonka winning a point in Hobbs, New Mexico, with handler Rebecca Heimann.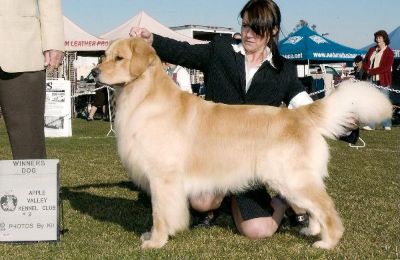 Tonka's win in Apple Valley, CA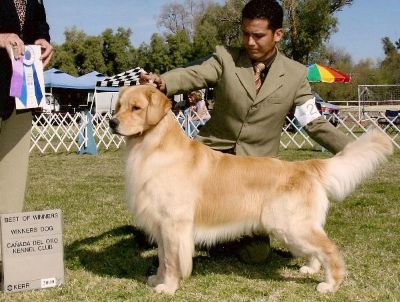 Best of Winners, Winners Dog, Cañada del Oro, Arizona show. Christian Rangel, handler.



It's OFFICIAL! Tonka is now a MULTI-CHAMPION at only 8 months old! What's in store for him next? He'll be visiting his breeder, Chris Browning (Eldorado Goldens) to start campaigning in the AKC rings on the East Coast early in 2009.


TONKA WON his Int'l/Nat'l JA CHAMPION TITLES on Sept 23, 2007. He garnered 2 PUPPY GROUP 3 wins too, and winning 3 BOB puppy classes.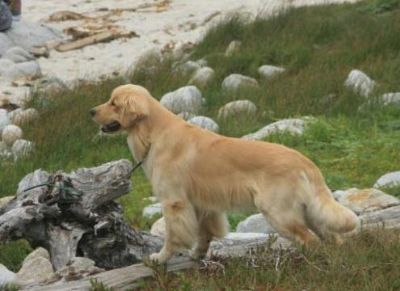 Tonka looking out to sea.... Pacific Grove, Monterey, CA, July 2008.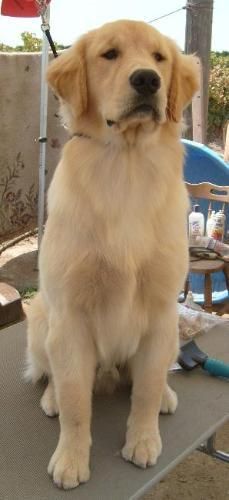 TONKA at 6 months.... getting ready for a show. My, hasn't he grown into a handsome boy! Tonka's dad, "Jesse", Am Ch Delmarva Tell'M U R Innocent finished his Championship by winning back to back 4 point majors! CONGRATS JESSE! See dad by clicking HERE.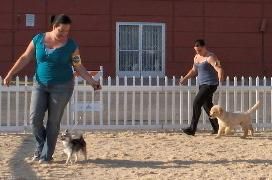 At 4 1/2 months old he acted like he was already a big show dog... what a good boy! See his pedigree by CLICKING HERE. He won Best Puppy In Show!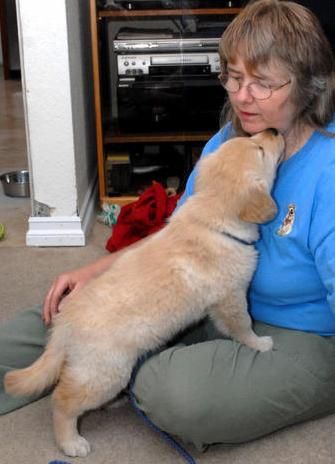 Even just off the plane from Virginia, Tonka had "attitude". I am sure he believes we are all here on earth for him alone. ;-)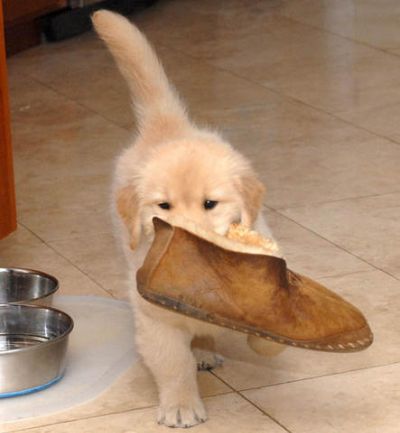 He made himself right at home at my friends' house (Obie and Sierra's owners, Kathy and Eric). Here's Tonka "fetching" Eric's slipper - although I'm pretty sure Tonka wasn't thinking about taking it TO Eric! LOL.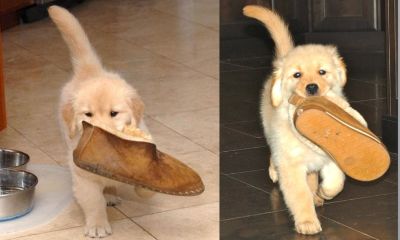 Tonka on the left, and his son TANNER SHERWOOD on the right at the same age!!


ALL CONTENT, COPY, AND PICTURES ON THIS SITE IS COPYRIGHTED AND MAY NOT BE USED FOR ANY REASON WITHOUT EXPRESS WRITTEN PERMISSION. (c) 2004 -2010 PROMISE KENNELS @~START EVERY DAY WITH PROMISE! ~@