(Pembroke's Merry Maverick, CGC<ptd> X Sierra Queen Of Craiglind, CGC<.ptd>)


Keeli is now a MULTI CHAMPION with Champion titles from AKC, UKC and UCI Int'l! She has several Group placements also. PLUS, she is a TOP TEN ranked Springer in the UKC system!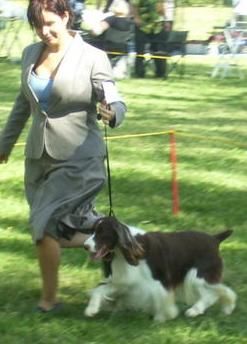 Keeli is pronounced keal-e. Keeli is Gaelic for "more beautiful than poets can describe"--at least that's what my daughter Shawnicy says! Keeli is Junior's sister, from a different litter. She is loved and owned by our daughter Shawnicy and her husband Jeremy (in addition to us!). Keeli was their wedding present :-) Copies of Keeli's clearances available on request. (OFA EXCELLENT hips - at 39 months!, NORMAL heart, elbow, thyroid, Normal CERF[8/12/07]). At over 5 years old, Keeli was part of a BEST IN SHOW BREEDER GROUP in Sept 2006 with her brother Junior and "nephew" Boomer (Junior's son).


Keeli receives her UKC Champion title in August 2007.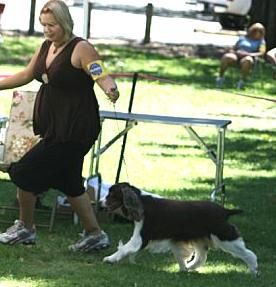 At almost 6 1/2 yrs old, Keeli wins BEST OF BREED in all 4 shows at the Rancho Cordova UKC shows, a GROUP FIRST, a GROUP 2, and 2 Group 3. She also adds UKC Champion to her list of titles.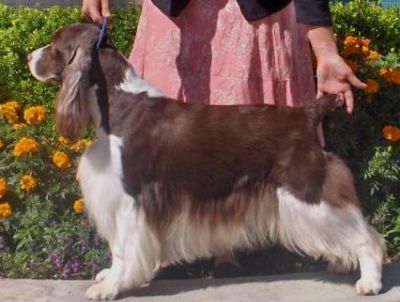 A recent photo of Keeli Oct 2006 at the Springer Spaniel National in Pomona, CA. She wasn't entered, she went to find a boyfriend! CLICK HERE to read about Keeli's hopeful litter plans!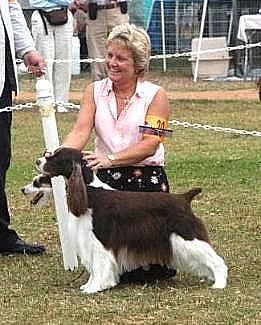 Keeli at the Torrance, CA show August 14, 2005. Shown here in the ring with handler Lynda O'Connor, KEELI FINISHED HER AKC CHAMPIONSHIP that day!!! YAY!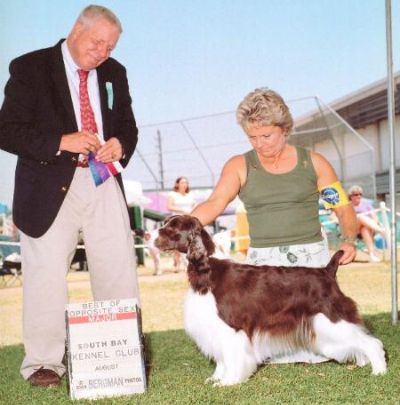 KEELI WON HER FIRST AKC POINTS, WINNING A 3 POINT MAJOR AT THE SOUTH BAY KENNEL CLUB SHOW IN TORRANCE,CA AUGUST 8th, 2004!!!!! THANK YOU TO OUR HANDLER, LYNDA O'CONNOR! More Keeli pics---including her SECOND major is below!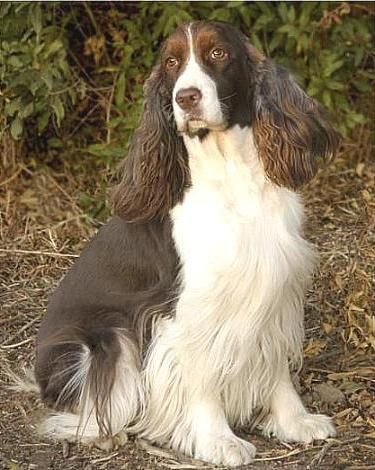 A gorgous candid photo of Keely, taken at our home on 10/15/05 by our friend (and Springer puppy person!) Toni Bauerlein-Sehnert. If any of you are in Southern California, you should look Toni up and have her create some beautiful photos for you!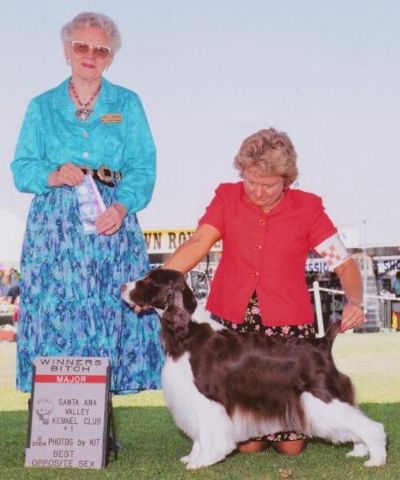 Here is Keeli with our handler, Lynda O'Connor, winning her SECOND major at the Santa Ana Kennel Club in CA, 2004!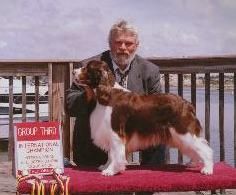 "Keeli" (UCICB Int'l CH Promise's Keeli Ni' Sierra) Keeli is Junior's sister. She has the same wonderful qualities as her brother. Here she is at HER first ever show, in Newport Beach, CA in May, 2004. She is being shown here by Ron (DOG TRAINER extraordinaire). She also did a terrific job, picking up FIRSTS in ALL THREE of her classes, along with three BEST OF BREEDs and BEST BRED-BYs, and she also won a GROUP THIRD! What a GOOD GIRL!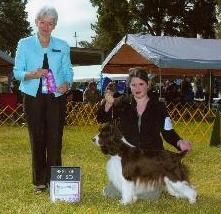 Here's Keeli winning in Placerville during the Hangtown shows in May 2004. What a beautiful picture!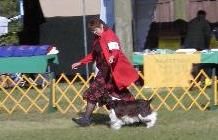 Another picture of Keeli, in the ring with Judy, who is trying her best to keep up and not fall! This is at the Coyote Hills show in Vallejo the week before Hangtown/Placerville. Keeli got a SECOND in BRED-BY class here.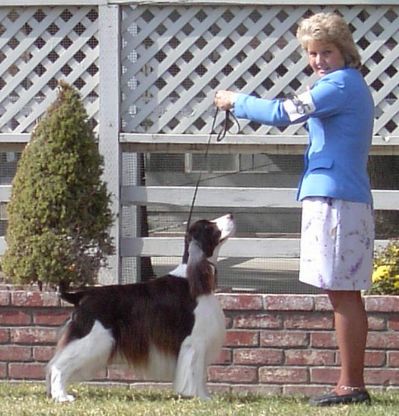 Keeli and Lynda in Pleasanton, during the Golden Gate English Springer Spaniel Specialty Oct 15-16, 2004. A great free-stack picture showing Keeli's focus is on Lynda!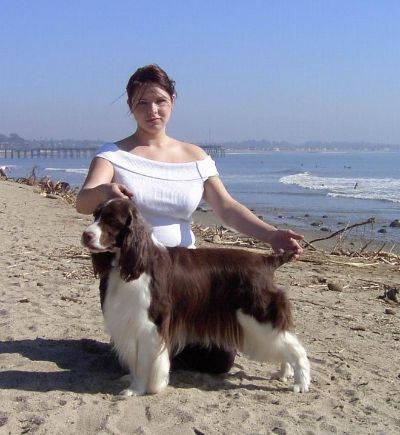 Keeli and Heather on the beach in Ventura after a day in the show ring, January '05.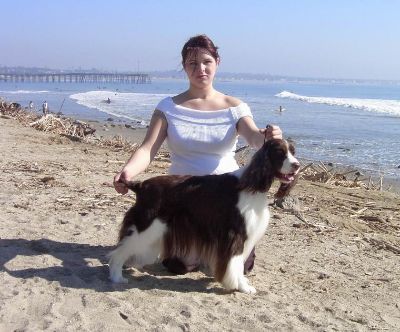 Looking to the West...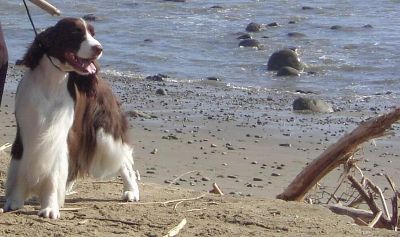 Take a stand...


A Keeli WAVE!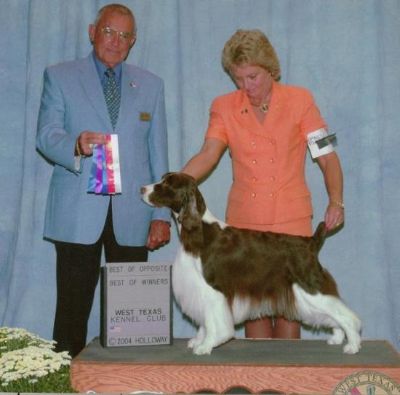 Keeli and Lynda in Texas, winning BOS/BOW, 2004

ALL CONTENT, COPY, AND PICTURES ON THIS SITE IS COPYRIGHTED AND MAY NOT BE USED FOR ANY REASON WITHOUT EXPRESS WRITTEN PERMISSION. (c) 2004,2005,2006,2007,2008 PROMISE KENNELS