CACH-B Int'l/Nat'l CH Stylish Dreams Of Promise CGC, Tdi x Nahla's Reign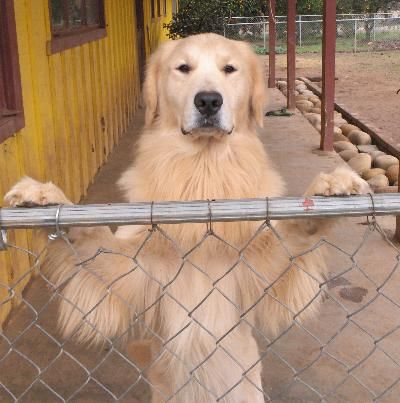 HI! I'm DITTO, Pete's son. WELCOME to MY page! Didn't I grow up to be a handsome boy? I didn't finish my UKC champion title, with my first Best Of Breed on July 22, 2007. I now live in Northern CA and am a Therapy Dog. See my photos below.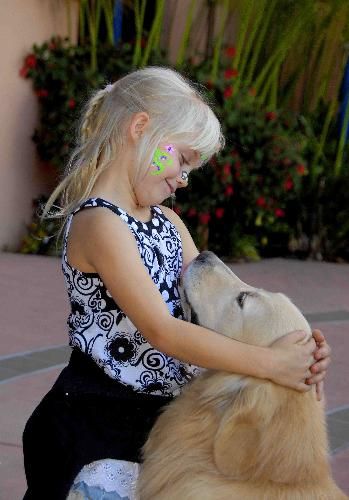 Ditto is now living the GREAT life with his new owner Brad who takes Ditto out as a Therapy Dog. Ditto is seen here with a lovely young girl who was at one of the the Ronald McDonald houses in Northern CA.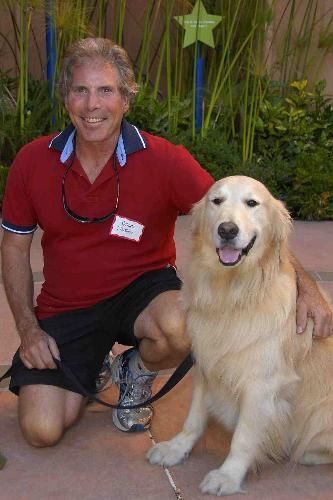 Here I am with my new best friend, Brad. He takes me all over the place - even to work! I love living with him!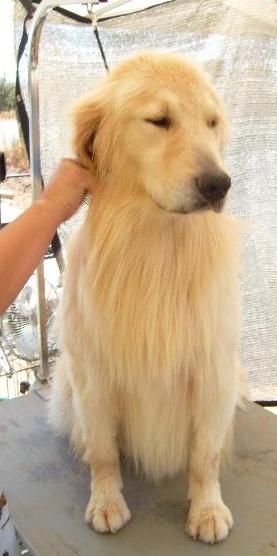 Getting groomed for a dog show...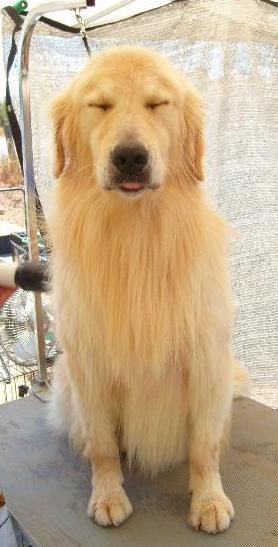 This is what I think about all this fluffing and foo-foo stuff! But, I am a GOOD BOY and will do whatever I'm told...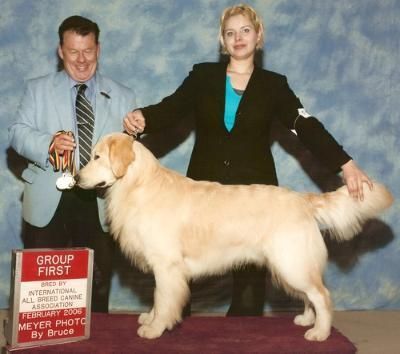 First day at the International show weekend (Feb '06), Ditto wins a Group 1! He also took home 4 medals for the first day's 2 shows.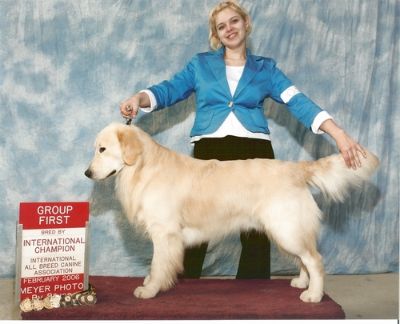 Here is our Golden winner on day #2 at the International shows-- he got TWO Group 1's and EIGHT MEDALS! Heather looks pretty happy!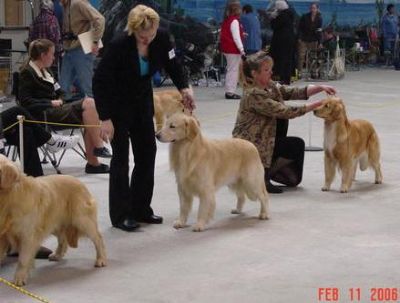 Our daughter Heather with Ditto in the Winners Class at the International Dog Show in Santa Rosa, CA Feb 11, 2006. Our thanks to Carrie and Christie V. who own one of our Golden puppies for coming to the show and HELPING US SO MUCH, and taking these great pictures!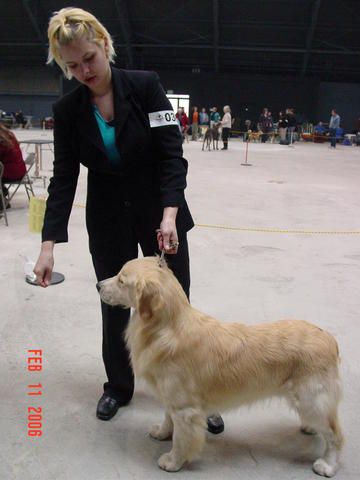 Heather and Ditto in the ring, Santa Rosa, CA.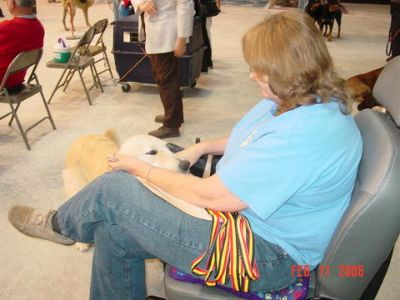 HE LOVES ME! Ditto and Judy, ringside, Santa Rosa. CA. Those ribbons on Judy's lap are attached to some of the 22 medallions we won during the 4 shows!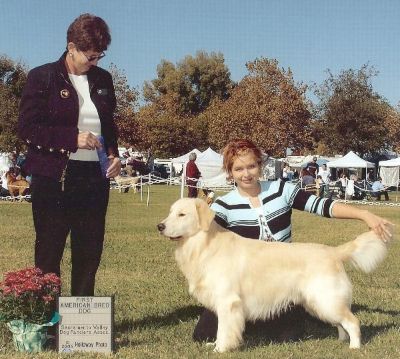 Ditto at the Golden Retriever Specialty in October 2005. He's learning!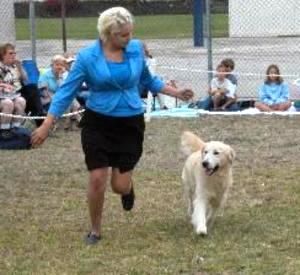 Heather and Ditto in the ring at the Torrance, CA show 8/05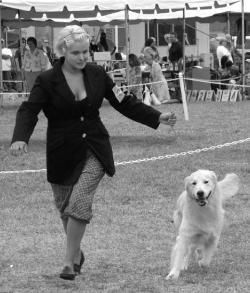 Rounding the corner and moving with speed...What a happy boy! Ditto and Heather in the show ring at the Torrance dog show. This was taken on a different day than the pic above (a 3 day show). THANK YOU to Toni S. for coming to the show and taking some wonderful pictures. Toni now owns one of our Springer Spaniels.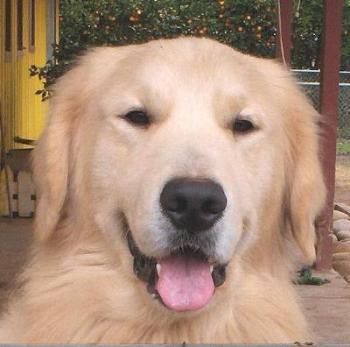 S*M*I*L*E*!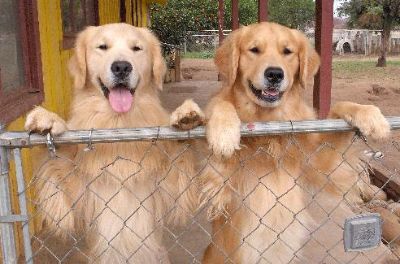 This is me (on your left) and my BEST FRIEND, Beamer. This is how we welcome EVERYONE to our house! You should come by for a visit! (Beamer will be 2 years old at the end of May, 2006).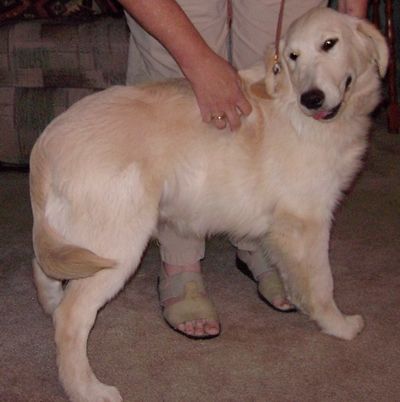 Here's Ditto getting some attention from Judy, after he was groomed. Ditto still has his Summer Underwear on, but it will soon be thicker and longer with his Winter coat. His coat will continue to fill in as he gets older. he's smart and sweet and will make someone an excellent pet or service dog. He is learning quickly and gets along with everyone.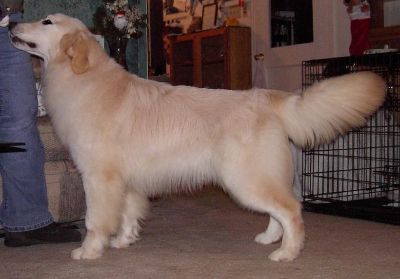 Ditto with his new and improved and very nice coat! Quite a difference from his Summer underware! He has a wonderful topline, excellent dark pigmentation and friendly, expressive eyes. He will do anything for his people. He is a joy to have around! 1/15/05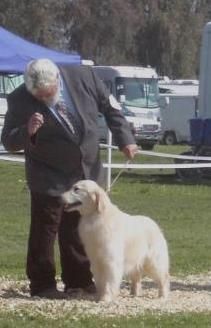 In the showring... Presenting Ditto. He is in the Winners Class after winning in his category (Puppy 9-12) (March 2005)


Here is the whole Winners Class. Ditto is second from far right. They line up in class order. (3/2005)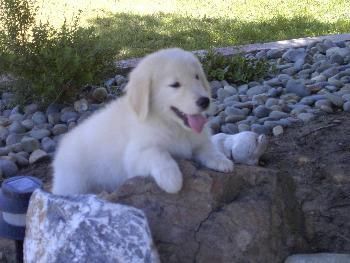 Ditto is one of Pete's sons from another breeder's female. In this picture, he is 10 weeks old. We took Ditto instead of the usual stud fee because we wanted to start training him as a SERVICE/ASSISTANCE dog. He was born on March 31, 2004.

ALL CONTENT, COPY, AND PICTURES ON THIS SITE IS COPYRIGHTED AND MAY NOT BE USED FOR ANY REASON WITHOUT EXPRESS WRITTEN PERMISSION. (c) 2004,2005,2006,2007,2008 PROMISE KENNELS