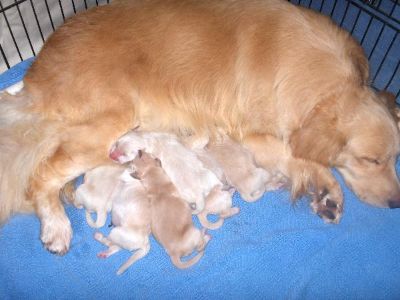 Angel whelped SIX of the cutest little puppies on August 30, 2005! This is our Africa Litter... PLEASE CLICK HERE to find out what that means!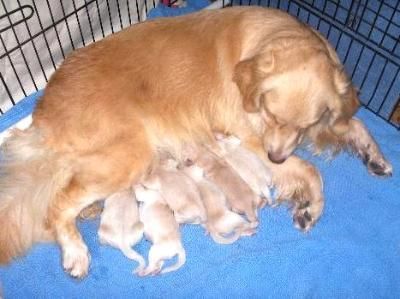 COUNT 'EM! SIX little piggies.... FOUR BOYS and TWO GIRLS. Less than 2 hours old.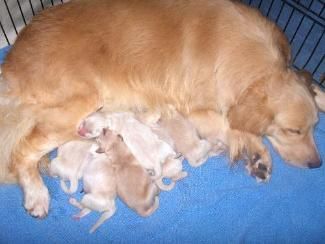 Angel is thinking, "Boy am I DOG-TIRED!" The lightest one is a boy, the darkest one is a girl.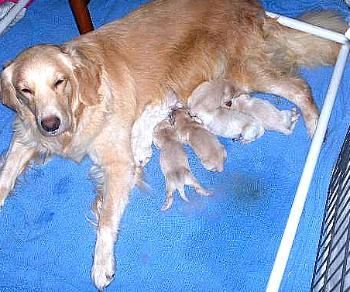 Angel still looks tired... But she was happy to eat some raw hamburger.... A nice little treat for a job well done!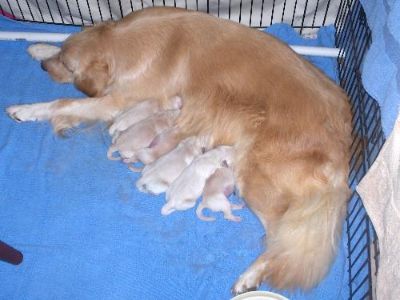 Our little Missionaries! 4 hours old... Stay tuned for more pictures as often as I can get them uploaded!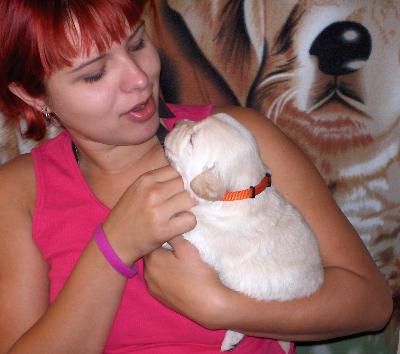 1) Introducing Pumpkin (Punky for short). He is sporting the ever stylish orange collar. A handsome boy and my beautiful daughter Heather.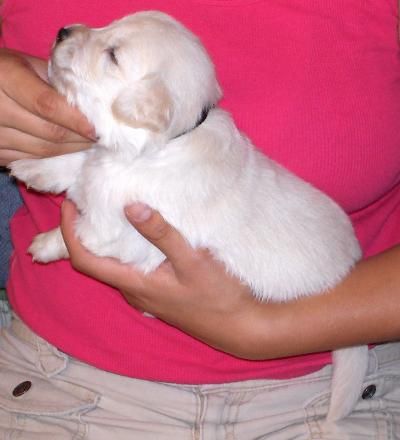 2) This little boy is wearing a black collar.... I named him Jensen, because he was born on the corner of Jensen and our street! "Jensen" is the lightest puppy in the litter. HIS NEW NAME IS STANELY--see his picture below!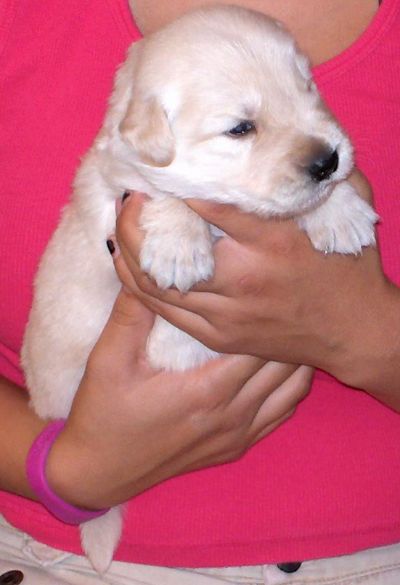 3) You can't see his collar in this photo, but this is little boy blue... He's wearing a blue collar. What a sweet little face! (now named Bobo)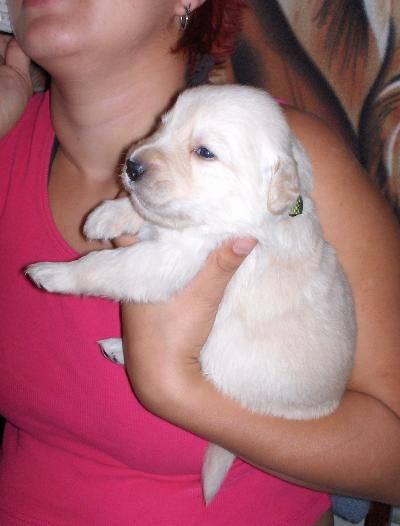 4) Ahh, 'tis the puppy and th' wearin' o' th' green! Must be a good Irish boy, so we'll call him Lucky... (Now known as NIKO).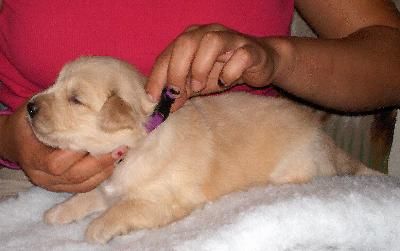 5) Here is Violet, wearing the regal purple, fit for a queen.... Note, she's not this dark, but the camera auto colored it because of the white sheepskin.... weird. (Now named SUMMER).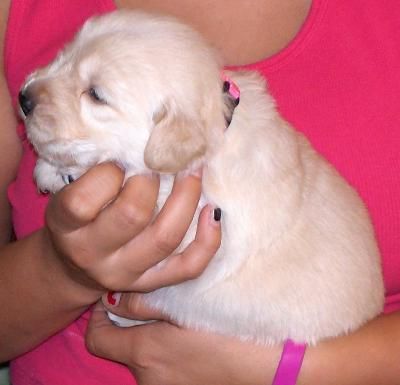 6) Pretty in Pink... The lighter of the 2 girls.... (Now named GRACIE).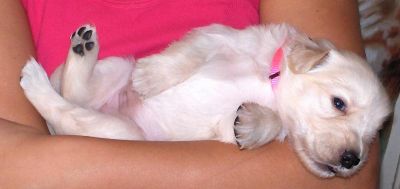 Are you Gellin???? (Pink)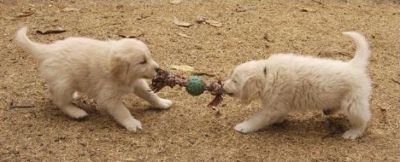 "Mine, MINE!" Outside and playing, at almost 7 weeks old.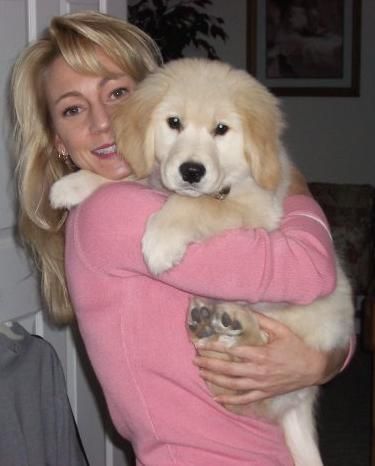 Alicia F. and her new "California Golden Girl", Gracie. They live near Philadelphia. (AKA "Pink")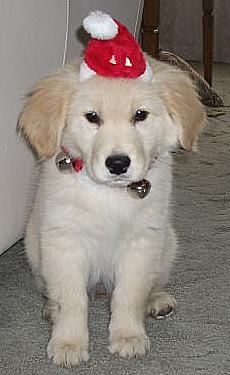 Gracie's Christmas Hat.... She doesn't look too happy about it! I guess she doesn't fully understand the "'Tis better to give than receive" gift-giving plan.... However, I hear she LOVES to give kisses!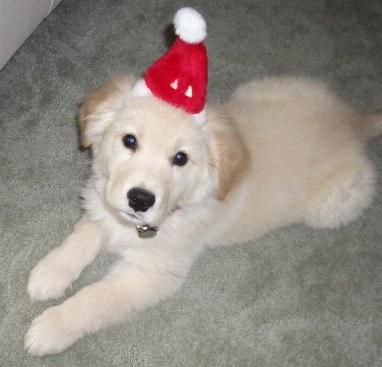 Santa's Helper- GRACIE!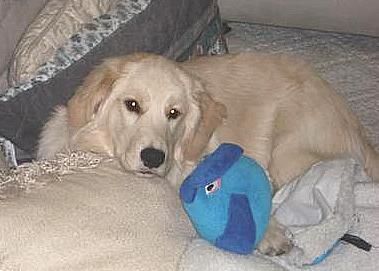 Gracie at 6 1/2 months old....Looks like her nap was interrupted!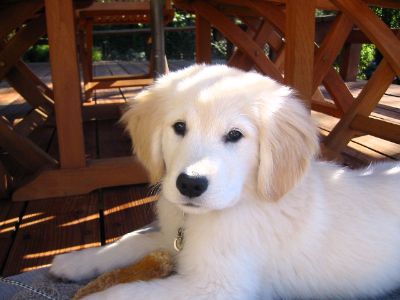 Here is a picture of STANLEY (AKA Jensen) on the deck at his new home...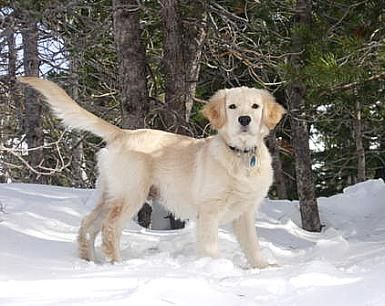 Here's Bobo NOW!!! What a looker! Don't worry, he'll grow into that tail soon enough!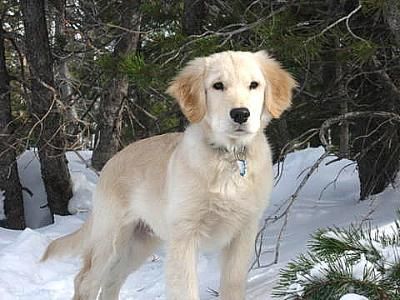 Yes, Pete and Angel sure do have some wonderful puppies... This is Bobo in the snow-snow.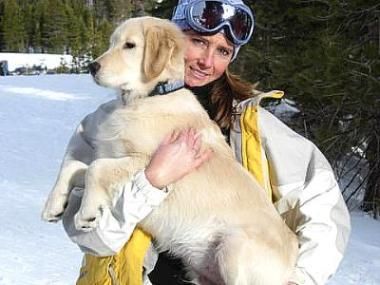 Bobo and his "mom" Tania.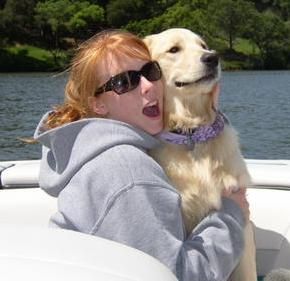 This is SUMMER (aka Violet) and Kate, on the lake. Summer's first boat ride. She's smiling, so she must like it!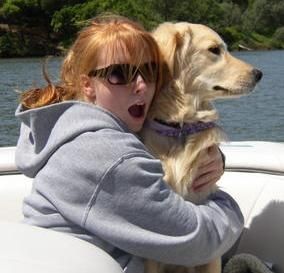 Hey, WHO'S DRIVING THIS BOAT?