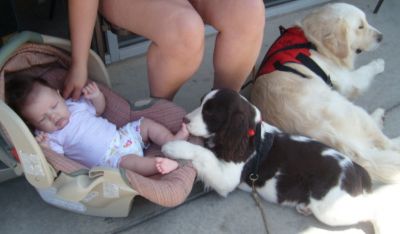 Here, let me help rock baby Julane! Marble at STARBUCKS. 4 months old 4/3/08 (the Golden is Brew).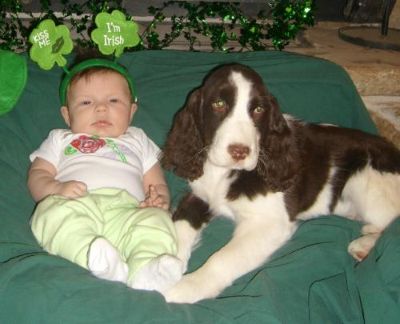 Marble is is such a little sweetie. Here he is with newest granddaughter, Julane, on St Patrick's Day (3 1/2 months old). IF you are looking for a Springer Spaniel puppy, CLICK HERE for upcoming litters.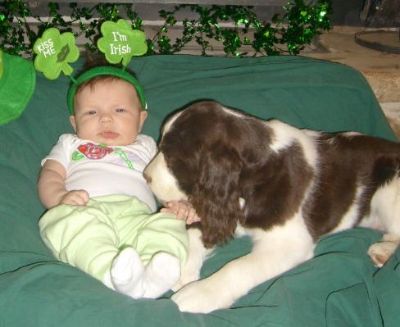 Marble is older than Julane, by 27 days.....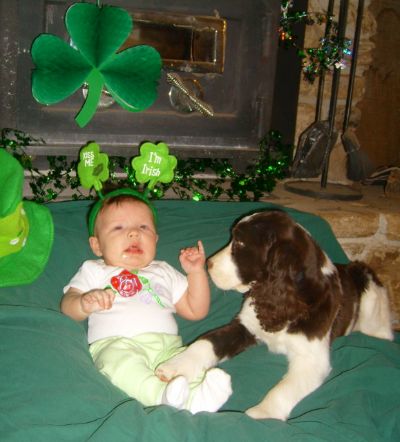 Wow, Julane knows sign language - She's signing a "J" while Marble watches.

UPDATE! Binnie had 1 boy puppy, a liver and white who was born on 12/2.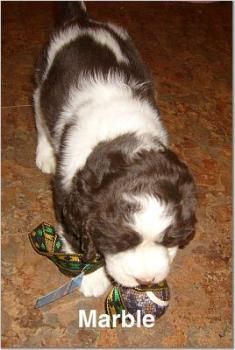 Marble is AVAILABLE to an approved home. Visit the PUPPY QUESTIONNAIRE page! He is a very sweet little boy who gets along well with other puppies and LOVES to follow me around the house. He is in puppy training and learning SIT, DOWN, STAY, COME, LEAVE IT, SETTLE, GET BACK, KENNEL, GO POTTY, DO LAUNDRY... OK, just kidding on that last one! ;-)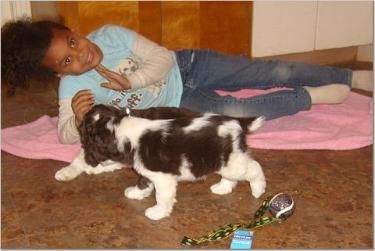 Marble (Driver is behind him) and granddaughter Adrienne.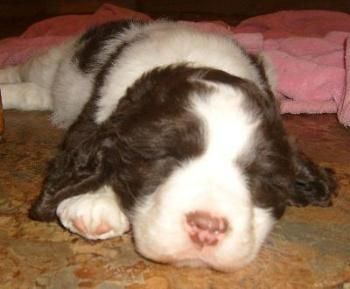 SHHH! PUPPY SLEEPING!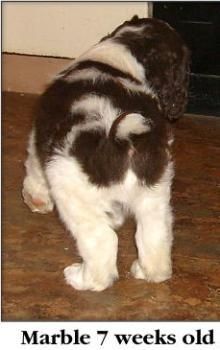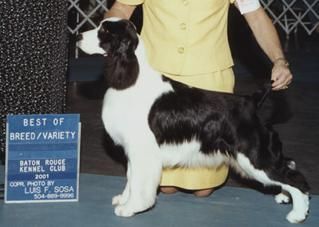 Our REPETE breeding of Binnie and Junior is HERE! After 2 years, Binnie whelped MARBLE on 12/2/07. To see pictures of our last Springer litter (also sired by Junior)CLICK HERE. To see 2 of the pups we kept from the last breeding of these 2 Springers, see "Princess Harley" and "Boomer" pages under SPRINGER SPANIELS. See more photos of Binnie by clicking her picture. This is likely to be Binnie's last litter.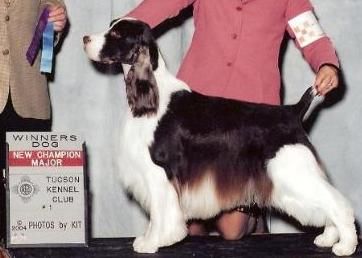 Here's a photo of our MULTI CHAMPION, Junior - winning his AKC Championship title at the Tucson AZ show in 2004. See more Junior photos by clicking his picture.

ALL CONTENT, COPY, AND PICTURES ON THIS SITE IS COPYRIGHTED AND MAY NOT BE USED FOR ANY REASON WITHOUT EXPRESS WRITTEN PERMISSION. (c) 2004,2005,2006,2007. 2008 PROMISE KENNELS