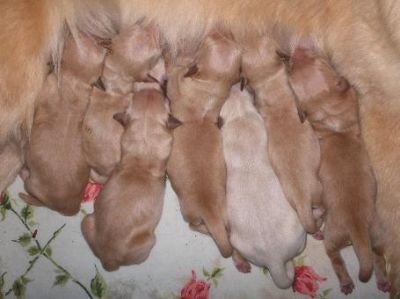 EIGHT puppies were born July 19th to Rider and Pete.... Can't find all 8 in this photo??? 5 males, 3 females. (PLEASE NOTE, this photo is much darker than "the real thing". I will need to lighten it but wanted to get some pictures onto the website ASAP).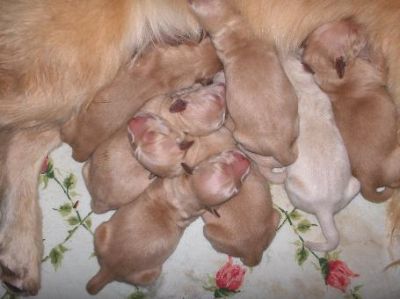 Just 3 minutes after the first photo (above) was taken, the puppies shuffled and maybe you can see the 3rd pup from the right has 2 tails? Sister is underneath! One very light male, 3 medium dark (2 are girls), 2 medium gold and 2 medium light (one med.light is a female).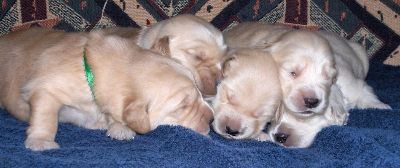 Here are the boys, at 13 days old. We have differently colored ribbon on each pup to help us figure out who's who. Their eyes are open, just not all the way.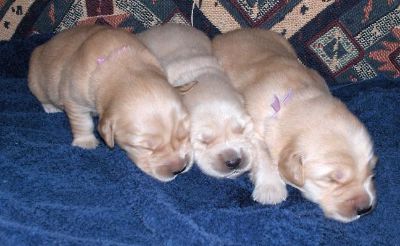 The girls cooperated better than their brothers... I will add more photos later....(We took pictures of each pup separately).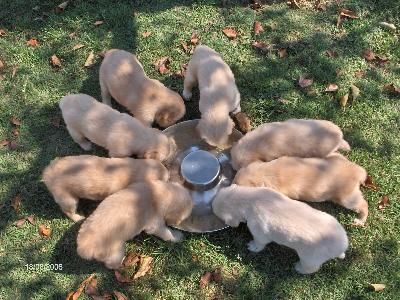 4 weeks old and outside for the first time! This is also their first meal that mommy didn't make! Sorry for the shadows from the tree!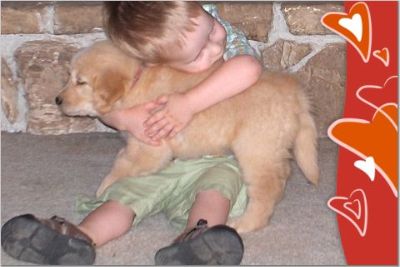 Giving baby Pink a hug, Michel is our helper, socializing the puppies to children. Photo taken Labor Day.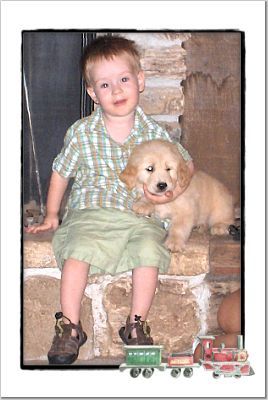 AWWW! 2 CUTIE PIES!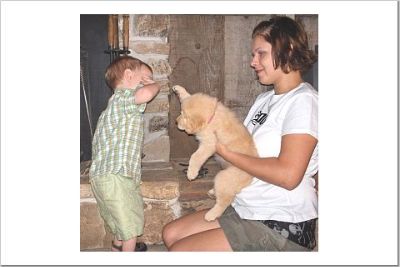 A HIGH FIVE!!!!! Michael, Pink and Heather.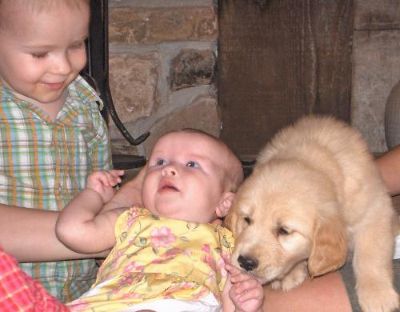 Big brother Michael is showing sister Rori all about puppy kisses!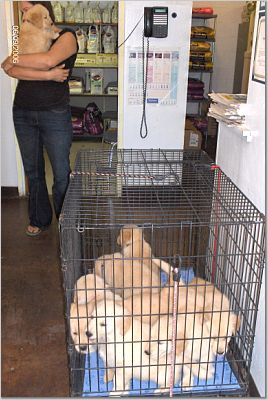 Here's the gang at their 7 week old vet visit. Heather is holding Camo...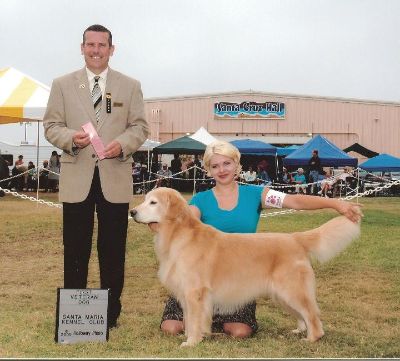 Pete is the planned sire. (CACH-B UCI Int'l/Nat'l Ch Stylish Dreams Of Promise CGC, Tdi).
Click on Pete's picture to go to his page.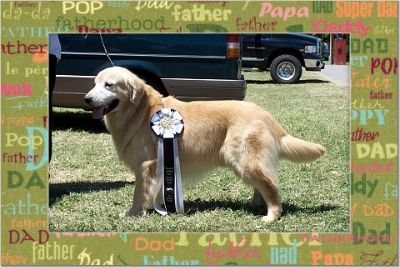 Here's a picture of Pete walking back from his photo shoot after winning BEST IN SHOW VETERAN for TWO of the International Shows in Madera, CA, June 3, 2006. Hw won Reserve Best In Show Veteran the following 2 shows. He is very proud of his 4 new rosettes!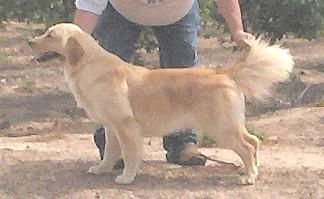 Here are some photos-- Bad ones, I know-- of Ridell - "Rider". She is a light medium gold with a perfect double layered coat and a wonderful full tail. She has excellent front and rear angulation along with good chest depth and topline. She looks remarkably like our "Faith". We keep thinking we're seeing double!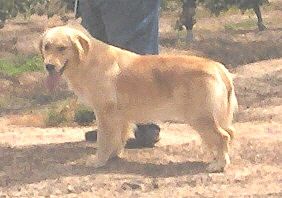 "Rider" has a very nice head and ear placement. I will try to get some better photos in the next few days. She is still getting used to us here. Her and Pete are already friends.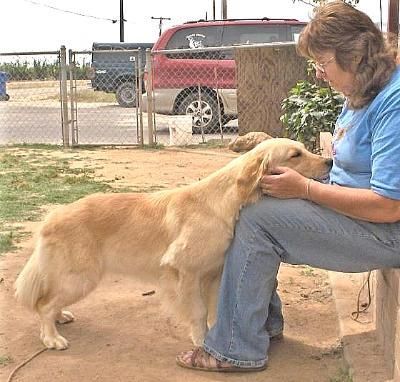 Rider is a very sweet girl who would be content to sit and let you pet her all day. She loves to give kisses-- her name should be Kissy!