UKC/Int'l/Nat'l CH Promise's Alotta Latte' NRG x Rainbow Promise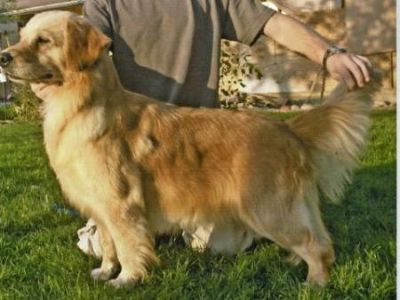 SKITTLES (Rainbow Promise) OFA hips GOOD, normal/clear elbows, eyes, heart, thyroid.

Was bred to: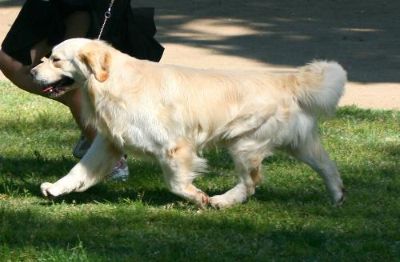 BREW (Multi-CH Promise's Alotta Latte' NRG) OFA hips GOOD, normal/clear elbows, eyes, heart.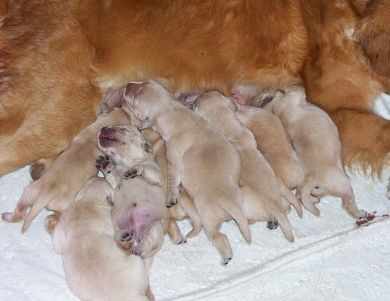 8 puppies were delivered via C-section to Skittles and Brew on May 4th. 7 girls and 1 boy. Mom is recovering nicely and puppies are getting BIG! Hey, I think somebody's FULL!

WE HAVE COLORED COLLARS ON!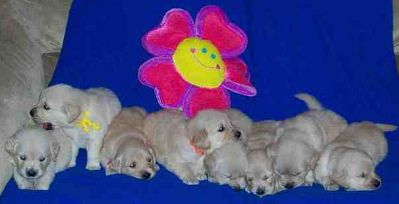 Look at us NOW! We're getting BIG. 4 weeks old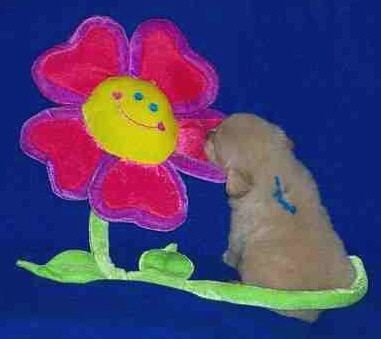 Blue, stops to smell the flower...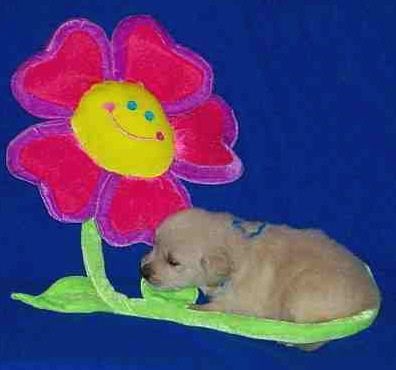 Blue - he's the only boy, so he gets 2 pictures! Blue is in his new home on Southern California, learning to be an Assistance Dog!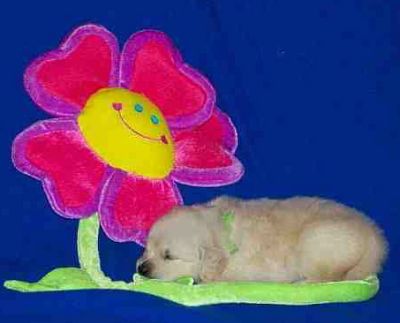 Green Girl, snoozing. Guess she thinks this photo shoot is a bunch of foo-foo stuff. We are evaluating her as a possible show career. Check back mid-July!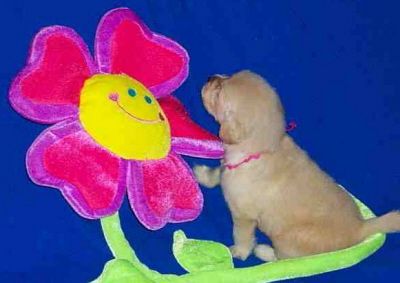 Pink - looking for a lady bug or butterfly. Pink is now Maxine, and living a great life NEAR US! YAY!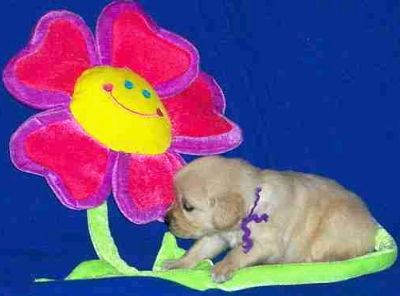 Purple girl, cute as a button. Her name is JETTA. We will add a newer photo of her soon. AVAILABLE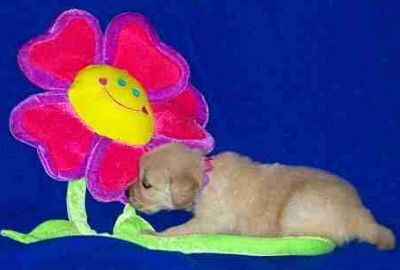 Rainbow girl... hmmm, I wonder if this flower tastes good? Rainbow is such a smart little girl. We hear from her new owners she is doing well with her SIT, COME and DOWN commands as well as getting her potty command figured out. She sleeps through the night too - at 8 weeks old!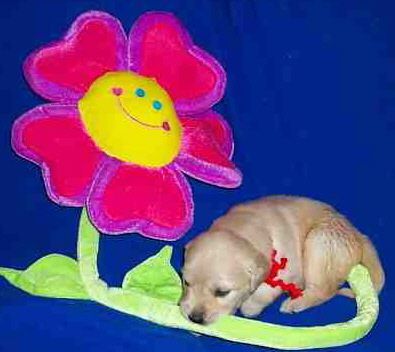 Red girl - I'll try it too.... mmmmm Red's name is CHEVY. My daughter is considering keeping this little spitfire. She has personality! Already housetrained, my daughter says if she doesn't keep Chevy, I have to conduct interviews with prospective families. Chevy's THAT SPECIAL!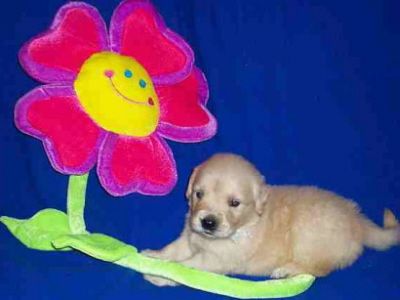 White collar girl. She knows what to do, sit there and look cute for the camera! This little girl will be going to an Agility home in the big state of Texas. Can't wait to hear how she does!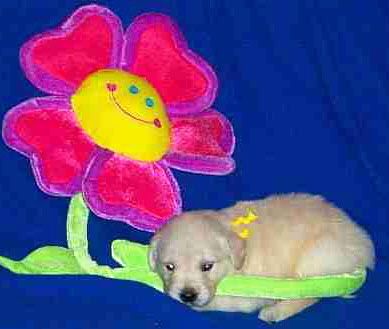 Yellow girl... ready for a nap, she snuggles! She's in Northern California and gets to go to work with her new owner.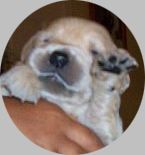 Little Boy Blue says BYE!

ALL CONTENT, COPY, AND PICTURES ON THIS SITE IS COPYRIGHTED AND MAY NOT BE USED FOR ANY REASON WITHOUT EXPRESS WRITTEN PERMISSION. (c) 2004,2005,2006,2007,2008 PROMISE KENNELS