Showing our dogs, caring for them, loving them, training them and breeding them.... that takes a lot of blood, sweat and tears (and money). The litter seen below was a litter that we've shed some tears over. We lost 3 of the puppies below from "fading puppy syndrome", despite all our efforts and sleepless nights. It took me over 2 weeks to post these pictures becasue I just wasn't sure what I should do. Well, I decided to share the pictures. Many people think that having puppies is all fun and, "Gosh, what a way to make money." Maybe our loss will make some realize it isn't all sunshine and roses. It isn't for the faint-hearted, and it ISN'T a way to make a million! Having said that, ENJOY these pictures. It was a beautiful litter! (The single pup - healthy and well cared for - is pictured below).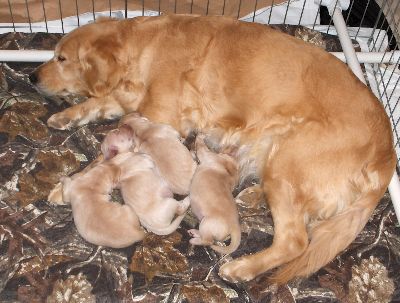 These sweet puppies were born after a trip to the Emergency Vet's (in the middle of the night, of course!) early on Thursday, November 17th. There were 2 girls and 2 boys born. (There was also one born dead...)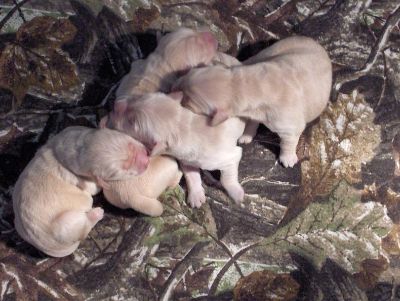 In this picture, the 2 on each end are the girls.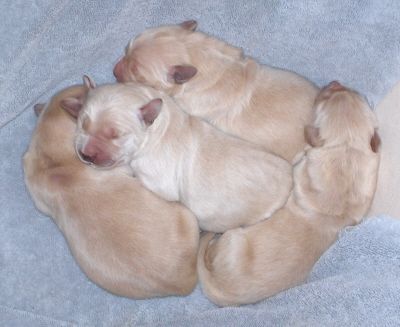 Here is a good close-up. The lightest and darkest are boys. The smallest, furtherst to the right, passed away first.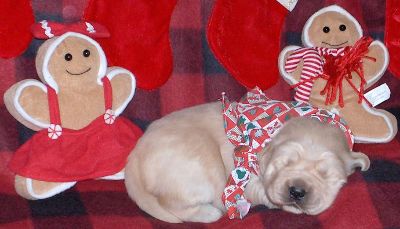 The remaining, healthy boy puppy, at 11 days old. His eyes are just starting to open. (Keep scrolling down to see the most recent pictures!).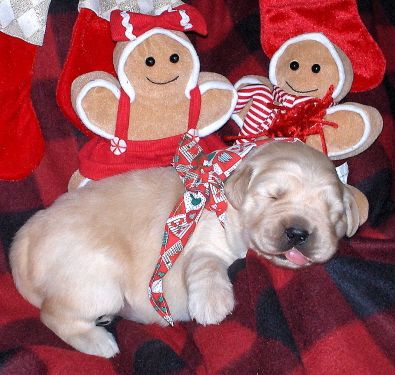 There's his little tongue! Guess he thought taking pictures was silly!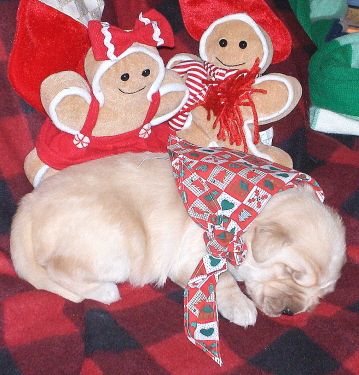 Here he is, saying his prayers while his Gingerbread dolls keep an eye on him.... GOOD BOY!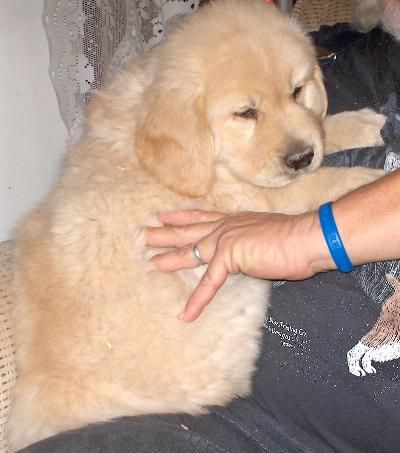 Obie, quite the little bear! Pictures taken at 7 weeks, 3 days old...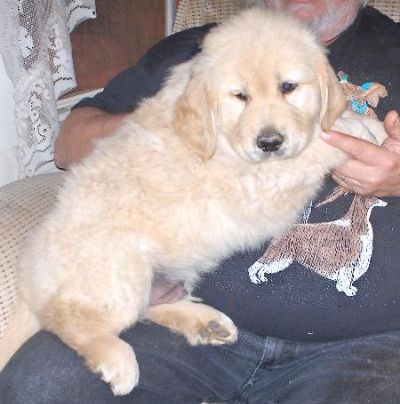 What a face.... He looks like he's eyeing the toys on the floor....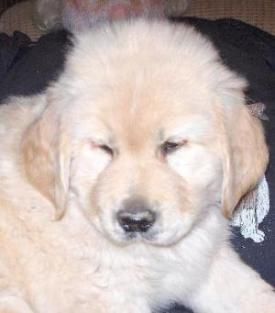 What a cute face... So unBEARably handsome!!!!! The "perfect" home has been found for Obie-- with our friends Kathy, Eric, Ryan and Sierra... Look for us in the show ring!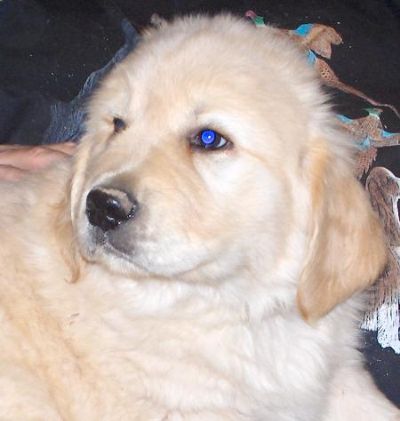 No, Obie doesn't have a blue eye, the flash made it that way.... Looks like he needs to stop playing in the mud... he has some on his little nose!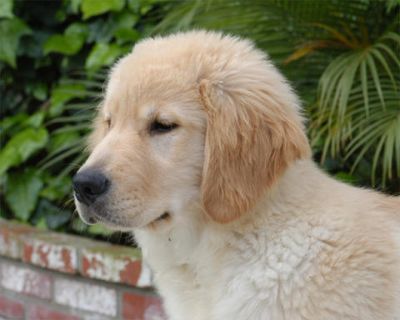 Obie poolside in SoCal... Great headshot!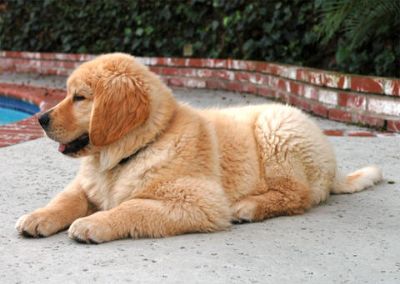 Look at this great pool-side picture! A bathing beauty in the Southern California sun!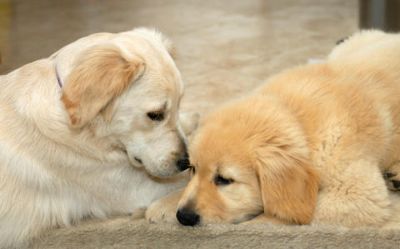 Here is Sierra (on left) and Obie. Sierra is a Pete/Reign puppy.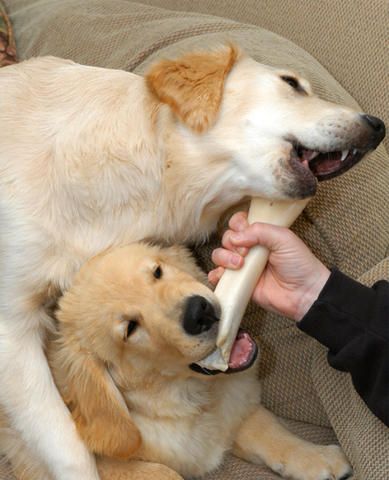 "You start on that end, and we'll meet in the middle..." Sharing.... Good dogs! Sierra (top) and Obie....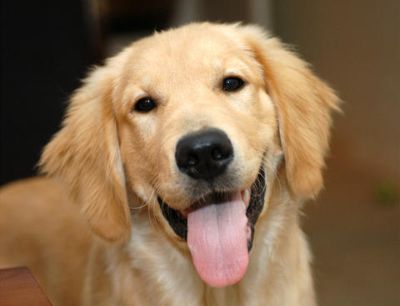 LOOK AT OBIE NOW!!! At almost 6 months old, it's hard to think of him as that big ball of fur, above!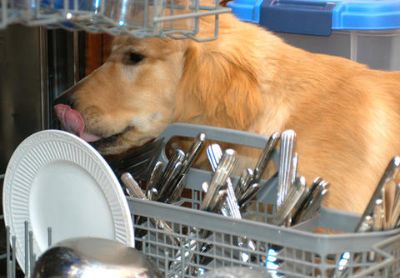 WHAT A GOOD HELPER! I think I should have kept Obie, since he is so helpful with the household chores! Thank you Kathy for sending this great photo to us... (at almost 6 months old).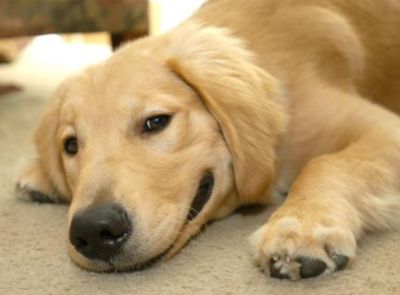 "When you're Smilin', when you're smilin'.... the whole world smiles with you..." Here's Obie and his Golden Grin.... Thanks Kathy for sharing it with us!